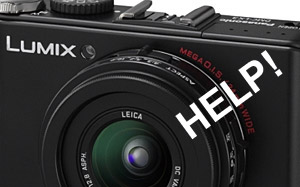 Judging by the traffic to our article, a lot of people here  (including ourselves) must have downloaded the v2.0 firmware update for the Lumix LX3 camera – so here's some bad news.
Lumix have just announced that they've suspended the availability of the download until 'reliability issues' have been addressed. They're also suggesting that users who have installed the update, reset their cameras.
Click on full their full statement: 
"The download for the firmware update program to Ver.2.0 has been temporarily suspended, in order to make sure the reliability of the firmware, more specifically in case of the use of some newly added functions on Custom shooting mode. The download is expected to be available back again around the 20th Oct.

For the users who have already updated LX3 to Ver.2.0
The camera which has been already updated to Ver.2.0, can be used without any problem after the reset of the camera by selecting the [RESET] in Setup menu. Please note that all settings except the clock setting will be reset to the initial settings. To keep the current settings, please make sure to write down the settings on a note in advance to reset the settings."
As LX3 users ourselves, we're mighty concerned about this, so we'll be posting up updates just as soon as we hear from Panasonic.
We have to say that we haven't noticed amiss with our camera yet (although one reader did have trouble installing the updater) so we're going to keep on using the updated version.
How about you? Anyone had any problems?