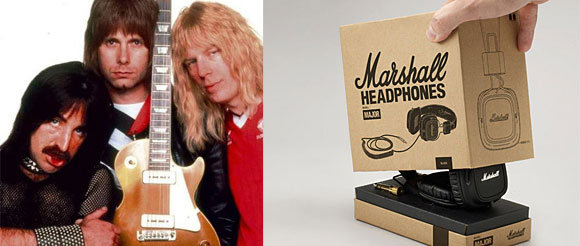 Marshall, the undisputed dons of the rock music amplification world have announced that they'll be expanding their range into the headphones.
Here's how the new headphones are being introduced:
The heavy sound of Marshall has been carried over the world for nearly 50 years. Breathless roadies and roaring trucks have worked hard to make Marshall heard all across the globe. Now, time has come for you to carry this magnificent burden of rock 'n' roll all by yourself.
The spec sheet is smaller than Spinal Tap's 'Stonehenge' stage set at the moment, with only a teaser website showing a countdown to a November 15th launch date and a photo of a disembodied hand lifting the box open.
From that tantalising glimpse, we can see a none-more-black pair of closed cup headphones with a gold plated 3.5mm adapter, so it looks like they're being targeted at both music pros and the MP3 mob.
With no more press information to hand, we feel obliged to post up this seminal clip about the Marshal amp that 'goes up to eleven.'