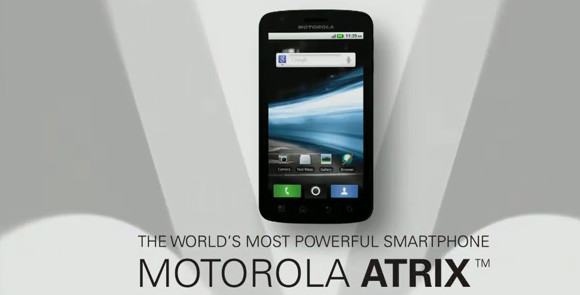 Motorola's intriguing new high end ATRIX smartphone is set to cartwheel into the UK in early May, and will be exclusively available on the Orange network.
The cheapest ATRIX tariff is a rather pricey £35 per month deal, on a lengthy 24 month contract, which gives you 600 minutes, 750 MB data allowance, unlimited texts, 50 MMS and unlimited wi-fi (subject to fair usage) per month.
Accessories
Orange has also announced the prices for the all-important accessories, with the Motorola HD Multimedia Dock (which comes with a USB keyboard, mouse and a remote control) being offered at £49.99 for a limited period through May.
From then on, the price whooshes up to £129.99, while existing Orange customers upgrading in May will get it for nowt.
The more interesting Lapdock – which packs a full keyboard, screen and battery and turns the tablet into a netbook – is set to retail for a decidedly upmarket £299.99, but will be offered at "reduced price points" on certain tariffs.
Scroll on for the full release: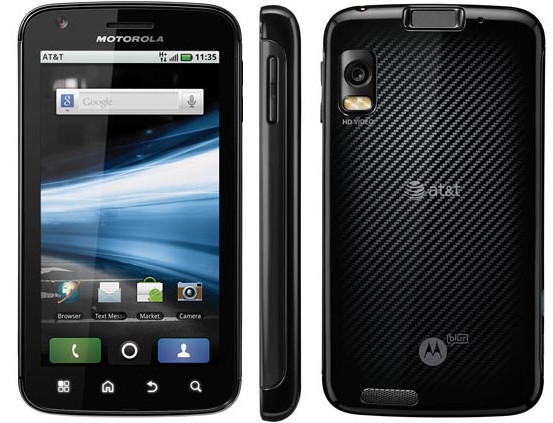 Press release:
Orange Unveils Pricing And Availability For Motorola ATRIX™ The World's Most Powerful Smartphone
Motorola ATRIX™ will be available to purchase exclusively from Orange in early May
Customers can reserve their handset now through Orange retail shops and Orange telesales

As Motorola's exclusive UK launch partner, Orange today announced pricing and availability for Motorola ATRIX™ – the world's most powerful smartphone. From today, consumers will be able to register their interest online or reserve their device from Orange retail shops and Orange telesales ahead of launch in early May.

Tipped to be one of the biggest device releases in 2011, Motorola ATRIX is the true epitome of mobile computing. The handset features a dual core processor which delivers up to two GHz of processing power. As a result, Motorola ATRIX is capable of opening web pages twice as fast as most other smartphones, and it has been designed to become a user's primary digital hub to create and edit media content on the go. It also features a biometric fingerprint reader for easily unlocking the phone.

Running the Android operating system, Motorola ATRIX also offers Motorola's revolutionary webtop application which runs a full Mozilla Firefox 3.6 browser and supports Adobe® Flash® Player for rich graphics, animation and video.

To support the device, Motorola has developed two companion accessory docks for purchase separately:

* The Motorola HD Multimedia Dock, which has three USB ports and an HDMI port enabling connections to a keyboard, mouse, speakers and HDMI-compatible monitor for working at your desk, or connecting to an HDMI-compatible television and home theatre audio system for enjoying video, music, games and more

* The Motorola Lapdock™, which has an incredibly thin design with an 11.6-inch screen, 36Wh three-cell battery that delivers up to eight hours of battery life, full keyboard, stereo speakers, and weighs just 1.1 kilograms. Users simply dock their Motorola ATRIX into the back for true mobility at work, at home and playing on the go in a form factor that's lighter and smaller than most laptops on the market

Motorola ATRIX will launch exclusively on Orange and will be free on a £35 per month, 24 month contract, which includes 600 minutes, 750 MB data allowance, unlimited texts, 50 MMS and unlimited wi-fi (subject to fair usage) per month.

Those who purchase Motorola ATRIX from Orange will also be able to take the Work and Play Kit which includes a remote control, mouse, HD multimedia dock and keyboard for only £49.99 (standard retail price £129.99), and to celebrate the launch, existing Orange pay monthly customers who upgrade to Motorola ATRIX during the month of May this year will receive the Work and Play Kit for free.

Customers will also be able to purchase the Motorola Lapdock from Orange, normally priced at £299.99, at reduced price points on select tariffs. A unique price plan is also being introduced which includes free tethering** allowing customers to connect to the internet on the move using the Motorola Lapdock – the new Panther Extra 60 plan*** also includes 3,000 minutes, 1GB data allowance, unlimited texts and unlimited wi-fi (subject to fair usage) per month.

Business customers can also get Motorola ATRIX and the Motorola Lapdock bundle free of charge on Solo 55 and existing customers will get a great deal when re-signing with Motorola ATRIX.

Simeon Bird, Director of Propositions, Orange UK said: "We're pleased to be bringing Motorola ATRIX to our customers as it's one of the most innovative handsets we've seen this year and it supports our passion for innovation. With its intelligent support accessories, the handset not only stands out from the rest of the pack, but the overall experience takes mobile computing to the next level."

Andrew Morley, vice president marketing, international markets, Motorola Mobility said: "The award winning Motorola ATRIX ushers in a new era in mobile computing. We are excited to be bringing this highly anticipated smartphone to the UK with Orange."

For more information on Motorola ATRIX, accessories, and to register interest in the device, go to www.orange.co.uk/motorolaatrix or to reserve a handset, please visit Orange retail shops or call Orange telesales.