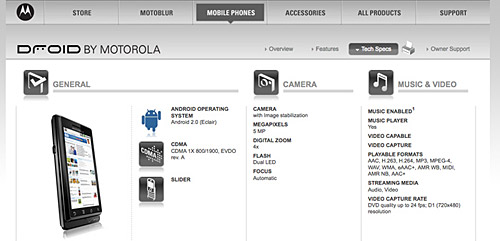 Motorola have certainly been a bit cocky about their forthcoming 'iPhone-killing' Droid smartphone, although details of what tech goodies lurk within have been very scarce.
However, tech website TBG managed to unearthed what they say was a  non-public link to a product page on Moto's US website which revealed all – and naturally they were happy to spill the beans online.
The web pages – which were hastily screengrabbed for fear of them vanishing into the ether – listed the main specs of this hotly anticipated Android handset.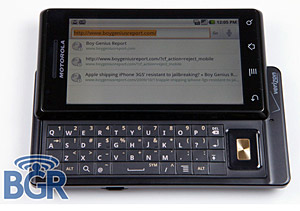 Powered by a 550MHz processor, the Droid will boast a 3.7-inch, 16:9 touch screen with 480 x 854 resolution, plus Bluetooth, 802.11b/g WiFi, and a micro USB port.
There's a 5 megapixel camera with 4x zoom, autofocus, and dual LED flash onboard, with the handset packing a pre-installed 16GB microSD card.
A 1400 mAh Li-ion battery promises up to 385 minutes of usage time and 270 hours standby, and the slider phone will measure up at 2.4 x 4.6 x 0.5-inch and weigh six ounces.
There's still no news about the all-important price or availability, but we have to say that we're not exactly being blown away by this bad boy's looks.
Sure, the specs are on track, but the Droid looks like a retooled G1 to us, and that wasn't much to write home about in the first place.