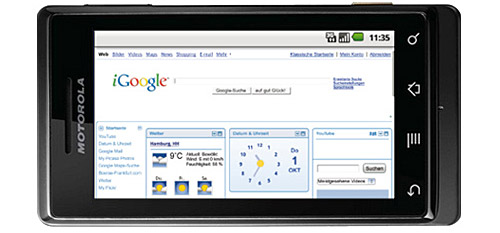 Motorola are all fired up and busting a gut to tell you about their new MILESTONE handset, which they're boldly proclaiming as, 'the world's thinnest, QWERTY slider with 3.7" multi-touch & pinch display.'
Coming straight outta Motorola's UK HQ at Basingstoke, the MILESTONE appears to be identical to the DROID handset, save for the different cellular radios and, curiously, the inclusion of 'pinch and zoom' multitouch.
It does seem rather strange why the European version should offer this feature while Americans have to do without, but whispers on the web suggest that it's something to do with some Apple-based intellectual property rights (or the threat thereof).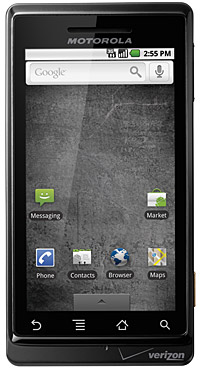 Here's Ralf Gerbershagen, vice president and general manager of Motorola Western Europe, to tell us how truly amazing his company's product is:
MILESTONE is a smart phone without compromise, delivering a wiser, richer web and messaging experience. This is possible through the combination of Motorola's expertise in design and a truly differentiated Android experience.

In MILESTONE, form and function align to offer a clearer, more brilliant widescreen for enjoyable pinch and zoom Web browsing, the thinnest slider keyboard for messaging and push email that syncs both work and personal accounts, and a range of entertainment features including DVD quality video playback.
The MILESTONE is basically the same as the DROID (sorry about all these ridiculous capitals but Motorola insist on their product names being SHOUTED), so the handset comes with an exuberance of features.
These include: a 3.7" 854 pixels wide widescreen display, four touch-sensitive navigation buttons, 5 megapixel autofocus camera with dual-LED flash, CDMA Rev A., Wi-Fi, GPS, a digital magnetometer, accelerometer, proximity sensors,  notification LED, a slide-out full QWERTY keyboard, 3.5mm headset jack and microUSB port.
For the European version, there's no Google Maps Navigation onboard, with users having to find their way around with MOTONAV.
The Motorola MILESTONE will be available from The Phone House, O2 and Vodafone from November 9th.