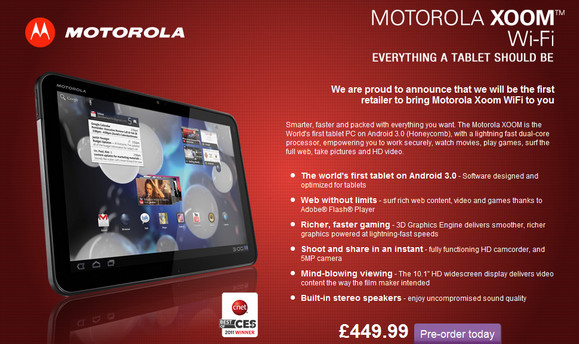 Anyone with half a brain knows that to tempt users away from the all conquering iPad, you've got to offer a cheaper, equally capable alternative, and Motorola's highly spec'd Xoom is doing just that and more, and is being offered at a very reasonable £450 for the Wi-Fi only model.
PC World – yes, that lot – have put up a pre-order page for the 10.1-inch, 1280x 800 pixels, Tegra 2-powered Android wonder with the asking price a considerable £60 less than its direct Apple competitor, the 32GB WiFi-only iPad.
That price point means that it's only £10 more than the 16GB version of the iPad, which may prove a tempting enough proposition for consumers, especially as Android tablets hit the mainstream.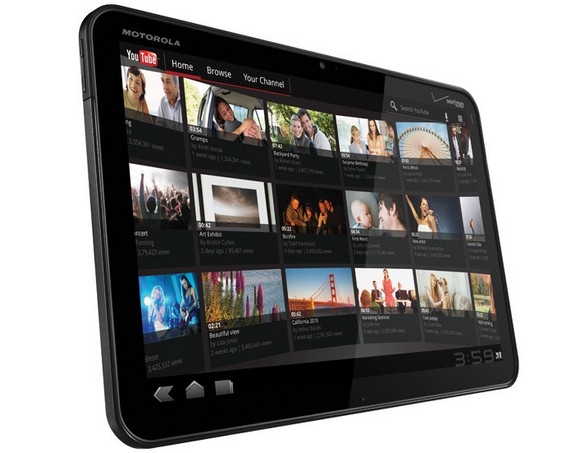 High end beastie
The Xoom runs on Google's brand-spanking-new, tablet-optimised Android 3.0 (Honeycomb) operating system, and packs a lot of high end features, with a 10 hour battery life, GPS, Bluetooth 2.1 +EDR, HDMI out and Micro USB.
Cameras a-plenty
Unlike the iPad, the Xoom also usefully works as a fully functioning HD camcorder and also packs a 5MP camera with Dual-LED flash and 2MB front facing camera for video chats -plus support for Flash. Take that, Jobsie!
Being PC World, the 'pre-order today' button isn't actually working at the moment, but if you can bag the Xoom for £450, we reckon you'll have something of a bargain on your hands.