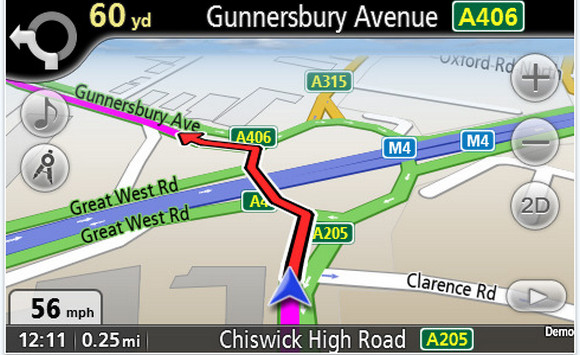 Everyone loves free stuff, and GPS specialists Navmii hope that you're going to break out the romantic sonnets at the news that they're offering their Navfree iPhone satnav app  for absolutely nothing. Zero. Zilch. Nuppence.
Breaking open their big of exclamation marks, the company shouted the details:
TOTALLY FREE!!!! No monthly fees or Annual charges. Maps are stored on your device. No data connection is required*

FREE MAP UPDATES!!! Receive free updates of the map data for life.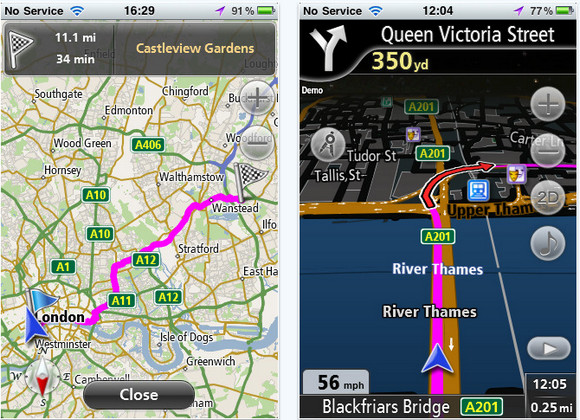 Works on the iPad
Claimed to be the "first no cost, high quality, easy to use voiced navigation with OpenStreetMap data," the software is also compatible with the iPad and conveniently stores the maps on your device, so there's no mobile data charges to worry about.
"NavFree changes the face of GPS navigation on the iPhone," table-tumped Peter Atalla, CEO of Navmii.
"Anyone with an iPhone can now have satellite navigation for free. Mapping is provided by OpenStreetMap and is stored on the iPhone, making NavFree faster and more accurate than other free navigation services."
"Users will be able to contribute to the success of NavFree, by providing feedback on the maps, making NavFree a community built, free to use, navigation app for iPhone and iPad."
Search
Like a grown up satnav, NavFree lets users search for an address by postcode, city, street or house with full voiced directions, and the software can  automatically update in the event  a wrong turn.
There's also info displayed about the journey distance, estimated time of arrival, points of interest and the ability to rummage through Google  for local facilities.
UK now, US coming soon
The free satnav app is initially being made available for the UK & Ireland, with USA and Europe versions following soon – and there's an  Android version puffing over the hill soon too.
Here's the full-fat press release:
NAVFREE The world's first FREE 'onboard' professional GPS navigation software, with turn-by-turn directions, voice guidance, auto-rerouting, live 'Google' Search, for the iPhone and iPad. The best GPS navigation software for the iPhone/iPad for FREE.

Navfree is powered by Navmii, a top selling premium navigation software application.

TOTALLY FREE!!!! No monthly fees or Annual charges. Maps are stored on your device. No data connection is required*

FREE MAP UPDATES!!! Receive free updates of the map data for life.

AN INDUSTRY FIRST – Navfree uses map data from OpenStreetMap(OSM), often referred to as the Wikipedia of maps, which allows us to provide you with full GPS navigation at no cost to you.

HOW CAN YOU OFFER THIS FOR FREE? OpenStreetMap is an open source mapping system that was created by over 250,000+ users and as such the map data is free to use. As the maps are open and rely on users creating and updating them there will be a chance that some of the maps are incorrect or missing all together, especially in more rural areas. The good news is you can add & improve the map yourself by getting involved at OpenStreetMap, using one of the freely available map editors or simply use Navfree's inbuilt map report tool to send mapping errors!

With your help OpenStreetMap can be the most accurate street map in the world.

*IMPORTANT NOTICE* The First version of Navfree requires a Data connection to search for Address's. This allows you to have up to date access to the latest OpenStreetMap address database. Maps are stored on the iPhone/iPad so no data connection is required for map browsing & routing.

FEATURES:

GOOGLE LOCAL / MICORSOFT BING SEARCH:

• Now you can use Google or Microsoft Bing search directly from NavFree. Simply type in what you are looking for and see the result appear instantly on your map. 1-click and you will be navigating straight there.

LIVE MAP DISPLAY:

• As easy as paper maps – Browse the map with multi-touch by dragging or scrolling the screen. Enables you to route instantly by holding down any point on the map display and clicking 'route'. Great when you don't have the full address of where you are trying to get to.

• On-board maps. No data connection is required for downloading maps

• Choice of guidance displays – Gives you the option of viewing the map in 2D, 3D or a safety screen.

EASY TO USE INTERFACE:

• Easy and intuitive menus

• Large buttons designed for easy use on the iPhone/iPad.

• Day & Night maps – manually switch to low glare maps for safer night driving.

• Access IPOD MUSIC LIBRARY from Map Screen

• Music volume fading out and in when playing voice directions

• Automatic zoom to junction

• Automatic day/night mode switch

EXCELLENT ROUTE GUIDANCE:

• Fast routing – Fast routing engine, allowing you to calculate long routes in seconds.

• Automatic rerouting – If you happen to miss a turn, NavFree will quickly and automatically recalculate your route.

• Route prompts – Clear turn-by-turn; voice-guided directions and a 'graphically rich', detailed moving map display with visual directions, leaving you to concentrate on driving.

• Demo Route Plan and preview your route in real time before you leave.

• Detour Feature

• List of directions on your route

• NEW – Routing Options

• NEW – dedicated Pedestrian Navigation

DESTINATION SEARCH:

NavFree makes it easy with an intuitive step-by-step address input method.

• Exact address search, including City, Street and House details.

• Route to an intersection or junction.

• Find nearest POI (cafe, restaurants or museums) or use Google or Microsoft Bing Search to find millions of places near you and calculate route there.

IN-APP PURCHASE – Coming Soon

Purchase and download premium content directly to your iPhone/iPad

• Upgrade to premium Navmii using map data from premium supplier Teleatlas

• Safety Camera data

• Traffic information* coming soon
[iTunes]