Its predecessor, the PowerShot S90, came a close second to the superb Panasonic Lumix LX3 in our high-end compact camera shoot-out last year, but is Canon's freshly announced PowerShot S95 now good enough to take the top dog crown?
Fighting fit
Clad in a tough-looking, sleek and stylish body, the S95 boasts a fast, wide-angle zoom, hybrid image stabilisation and – finally – 720p HD video recording.
Like the Lumix LX3 – and its recently announced follow-up, the LX5  – there's now multi-aspect ratio shooting (3:2, 4:3, 1:1, 16:9 and 4:5 formats).
The PowerShot S95 has the looks to justify its wallet-depleting qualities, with the update coming in a slimmer package, just 29.5 mm thick, with an improved multi-control dial and the same external coating used on the EOS 7D to improve slip-resistance and grip.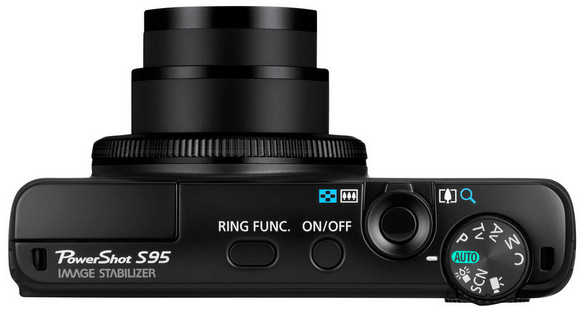 Improved low light performance
Combining Canon's high-sensitivity 10.0 Megapixel CCD sensor and powerful DIGIC 4 processing, the S95 promises to be a good performer in the dark (oo-err), pledging "exceptional low light performance," supporting a maximum ISO of 3200 at full resolution, with manual tweaking of ISO and white balance settings on hand.
In Low Light mode, the ISO range can be extended from ISO 320 right up to ISO 12800, at the expense of much smaller images (2.5MP). By comparison, the LX5 offers 80-3200 ISO, with 12800 ISO available for 3MB images.
Lens – fast but not as wide as we'd like
The camera features a fast f2 (max f4.9), 28mm-105mm wide-angle zoom, supported by a built in optical Image Stabiliser (IS).
Here's where the new Canon continues to lose ground to the Lumix LX3/LX5, as once you've got used to the latter's extra wide 24mm lens, Canon's more modest wide angle offering seems rather restrictive.
Control ring
Where the PowerShot S95 does score highly is with its unique Control Ring which makes it easy to quickly adjust shooting settings like ISO, shutter speed, aperture, focus and exposure compensation. This has now been tweaked to give a more satisfying 'click' when used, and us photographers definitely like to feel a click when we're dabbling in manual settings.
A new Tracking AF mode also lets users track subjects that are in motion, even when they drift from the centre of the screen, while a High Dynamic Range shooting mode takes three different exposures of the same scene and combines them in-camera  to create a single image with an increased dynamic range.

LCD screen
Canon's 3.0″ (7.5 cm) 461k-dot PureColor II G LCD screen comes with a tempered glass outer layer for extra protection, and a new RGB histogram in playback lets snappers check their images.
The Lumix LX5 screen comes in at the same size and resolution, so there's little to choose between them.
HD movies with stereo sound
The PowerShot S95 can record 720p HD 24fps movie recording with stereo sound, with an integrated HDMI port with CEC compatibility for viewing your work on compatible HDTVs and remote controls.
If you must, the Miniature Effect shoots movies at a slower frame rate for (ahem)  "dramatic and compelling" time-lapse-style model-scale videos.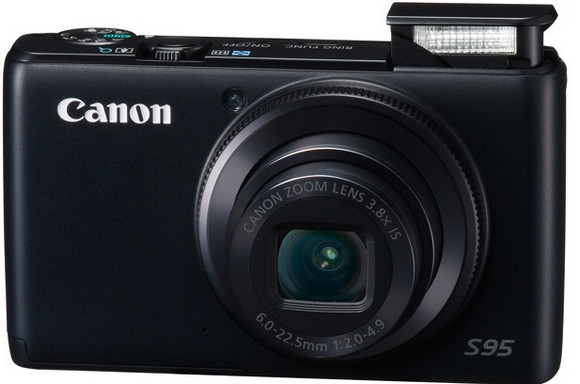 Shooting modes
There's a large array of manual and auto shooting modes or order to keep compulsive tweakers happy, including Full Manual, Semi-automatic Aperture priority (Av), Shutter priority (Tv) and Programme AE modes, and Smart Auto for point and shoot frolics.
Scene Detection Technology within Smart Auto  intelligently analyses scenes and dynamically selects the appropriate settings from 28 variables, with onscreen Hints & Tips messages guiding users through the camera's menu.
The PowerShot S95 should be available from the end of this month, with an RRP of £399.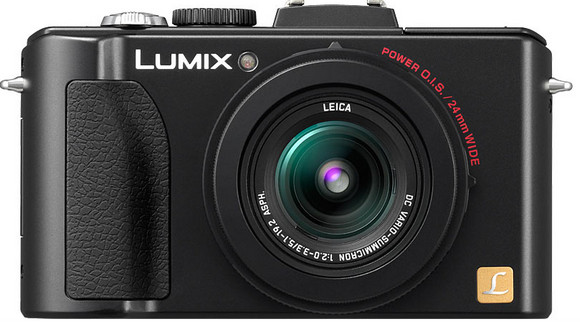 Canon Powershot S95 vs Panasonic Lumix LX5 – which is best?
We haven't had chance to play with either camera yet, but based on specs and a fair bit of experience with their predecessors, we reckon it'll remain a tight call, with both cameras offering very similar specs.
If we went on recommended prices, we'd go for the the S95 as it's listed at a whole £100 less than the LX5 (£399/£499), although we've already spotted the Lumix available on offer for as little as £353.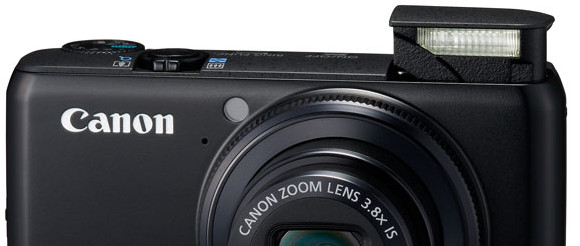 Lens compared
The Lumix offers a faster lens to the Canon (f2.0-f.3.3 compared to a slower f2 – f4.9), and we'd always sacrifice a little telephoto in exchange for a more expansive wideangle, so the LX5's 24mm-90mm beats the S95's 28mm-100m for us.
We're pretty keen on the PowerShot's control ring though, and aren't sure if we're going to like the LX5's redesigned click wheel as much as the joystick.
That said, we find the Lumix user interface far more intuitive than Canon's offering, although this is very much a question of personal taste.
Video face-off
The Lumix also offers an optional external LCD viewfinder and hotshoe, but when it comes to video, the Canon can record in stereo while the Lumix is restricted to Beatles mono.
Perhaps of more importance is the LX5's ability to zoom while recording video, something not listed in Canon's specs.
The Lumix also offers longer maximum exposure (60 secs compared to 15 secs on the S95), faster top shutter speed (1/4000 vs 1/1600) and faster continuous drive (2.5 fps, max 5 images vs 0.9 secs).
Of course specs don't tell the full story, but for a detailed comparison between the cameras, we recommend you fire up DPReview's excellent Side By Side app for an in-depth rummage through the stats, figures and facts.
What may prove a deciding issue for some is size: the S95 is far more pocketable at 100 x 58 x 30 mm compared to the 110 x 65 x 25 mm of the Lumix, and it's lighter too (195g compared to the LX5's 271 g).
Whichever camera you choose, you can be sure you'll be holding one of the very best compact shooters around, although we'd recommend also taking a look at Micro Four Thirds cameras from Olympus and Lumix which offer a lot more flexibility and higher quality photos for not much more dosh.
Our choice is…
We don't like to sit on the fence though, so given the choice (and we'd like that choice please Messrs Canon and Panasonic!), we'd go for the Lumix LX5, on account of its better handling, faster lens and, crucially, wider zoom lens.
Update: Our Lumix LX5 review has been posted.
Update: 3rd November
TechRadar have managed to grab a S95 for review, and their conclusion seems to be pretty much in line with our thoughts:
The Canon S95 is a great little camera that enthusiasts will love. It's small, fits in the pocket and is classily designed as well as shooting good quality images.

DSLR users looking for an everyday camera to shoot with the on the fly will appreciate the high image quality this offers in a neat package.

That said, it's pricing is, at the moment, a little expensive for what you get, and a couple of niggles (like the lack of selectable autofocus points, no ISO button, no movie button) begin to make other premium compacts, such as the Panasonic LX5 which answers many of these problems well, seem more attractive for serious users.
Amazon links:
Canon PowerShot S95 – Panasonic Lumix LX5.
Canon and Panasonic press release and specs:

Canon Powershot s95


London, UK, 19th August 2010 – Canon today unveils the latest model in its successful PowerShot S-series with the launch of the new PowerShot S95 – an advanced, compact digital camera for photographers looking for outstanding low light performance and manual control in a pocket-sized body. Succeeding the highly-acclaimed PowerShot S90, the new model offers improved handling, greater levels of manual control, HD movie capabilities, the HS System and Hybrid IS – providing a powerful feature set capable of superb image quality in all shooting conditions.

Building on the S-series' core principle of offering advanced manual control and low light performance in a compact body, the new PowerShot S95 takes the range to new heights, with features designed for users who demand maximum control and premium image quality in all conditions. The popular lens Control Ring, introduced with the PowerShot S90, has been improved with greater levels of flexibility, while a bright, f/2.0 lens and Canon's HS System provide an even more powerful basis for low light and creative photography. The PowerShot S95 is also the first-ever Canon compact to feature Hybrid IS technology, providing improved image stabilization for macro photography.

Improving on both the size and handling of its predecessor, the PowerShot S95 features an even slimmer body at just 29.5 mm thick*1, an improved multi-control dial and the same external coating used on the EOS 7D to improve slip-resistance and grip. Also designed to fit seamlessly into a photographer's existing workflow, the camera offers RAW format shooting and support for Canon's Digital Photo Professional (DPP) software.

Shoot in darker situations with f/2.0 aperture and the HS System
The PowerShot S95 includes Canon's HS System – a combination of a high-sensitivity 10.0 Megapixel CCD sensor and powerful DIGIC 4 processing, which provides exceptional low light performance even better than that of its predecessor. The HS System enables the camera to support a maximum ISO of 3200 at full resolution and works to reduce the occurrence of noise at all ISO speeds for high quality images. Users can also set their own parameters in Auto ISO mode, with the ability to limit the maximum ISO speed they want to employ during shooting.

Using Low Light mode, the camera can also achieve an extended ISO range from ISO 320 to ISO 12800, capturing images at 2.5MP resolution. Manual control of ISO settings and white balance in Low Light mode also provide greater control over shots taken in darker conditions, allowing users to accurately capture the ambience of a dimly-lit environment exactly as they see it. Low Light mode also enables higher speed shooting, capturing up to 3.9 shots per second so a moment is never missed.

As well as providing the ability to shoot without the flash and still achieve correctly-exposed shots, the PowerShot S95's high-sensitivity sensor offers a greater dynamic range compared to conventional sensor types. Tonal range representation is improved as a result, allowing natural looking pictures to be captured in all conditions. A bright, f/2.0 genuine Canon lens perfectly complements the HS System, allowing more light into the camera and providing greater ability to use faster shutter speeds and freeze the motion of moving subjects.

Genuine Canon lens with Hybrid IS
The PowerShot S95's 28mm wide-angle lens features 3.8x optical zoom, allowing users to get closer to distant subjects during shooting. The camera benefits from Canon's extensive heritage in lens design, having been developed using the same processes and high-quality standards employed to manufacture Canon's EF lenses, ensuring sharp, high resolution images with every shot.

Canon's acclaimed optical Image Stabilizer (IS) counteracts camera shake – reducing blur and enabling users to capture shots in darker conditions and shoot at a shutter speed approximately 4-stops slower than would otherwise be necessary to achieve a blur-free shot. Hybrid IS also prevents image blur during close-up shooting, counteracting angular and shift shake that becomes more pronounced during macro photography.

Unparalleled control
The PowerShot S95's unique and enhanced lens Control Ring enables the adjustment of various shooting settings such as ISO (in 1/3 stop increments), shutter speed, aperture, focus and exposure compensation – providing a satisfying and tactile experience. Offering even higher levels of customisation, the PowerShot S95 features a custom setting that allows the user to pre-set the function of both the lens Control Ring and the rear Multi-Control Dial in various shooting modes. A dedicated shortcut button can also be configured to provide instant access to pre-selected functions, offering the photographer easy access to settings during shooting.

To track subjects that are in motion, or to help achieve a creative composition, a new Tracking AF mode offers the ability to select objects from the centre of the frame and track them if they move, or if the frame is recomposed.

The handling of the Multi-Control Dial has also been redesigned following feedback from owners of the preceding model. The dial now features a more pronounced 'click' mechanism, preventing any unintentional changes to settings. Furthermore, the positioning of the 'Ring Func.' and 'On/Off' buttons has been revised, providing greater all-round operation in everyday use.

A 7.5 cm (3.0") 461k-dot PureColor II G LCD screen features a tempered glass outer layer, offering enhanced strength, high contrast and a wide viewing angle that offers greater visibility even when shooting in bright conditions. A new RGB histogram available in playback also allows photographers to instantly check the exposure of a shot in detail.

HD movies with stereo sound
The PowerShot S95 features 720p HD 24fps movie recording with stereo sound. The inclusion of Miniature Effect in movies also adds a completely new dimension to video footage – shooting at a slower frame rate for dramatic and compelling time-lapse-style videos which appear of model scale. An integrated HDMI port with CEC compatibility makes it simple for video and stills to be viewed and controlled directly using a compatible HDTV and remote control.

Capture scenes as you see them
A High Dynamic Range shooting mode allows the capture of high contrast scenes closer to how they appear to the human eye. Exceeding the limitations of conventional cameras, the PowerShot S95 takes three different exposures of the same scene*2 before analysing and combining shots to create a single image in-camera. The result is an image that captures highlight and shadow detail closer to how the photographer sees it.

Instant, creative results
The PowerShot S95 includes a range of shooting modes to match the desired level of control or the photographer's skill. In addition to the flexibility of Full Manual control and semi-automatic Aperture priority (Av), Shutter priority (Tv) and Programme AE modes, the PowerShot S95 also features Smart Auto for those who simply want to capture great shots instantly.

Scene Detection Technology within Smart Auto helps to provide the best results in all conditions, intelligently detecting the scene and selecting the optimum settings from 28 variables. Hints & Tips messages within the UI also make everyday operation as simple as possible, intelligently guiding users through the camera's menu and offering a short explanation of each feature before it is selected.

Smart Flash Exposure controls flash levels according to shooting conditions, providing the right amount of flash to ensure perfectly exposed shots in all situations, from darker rooms to bright sunlight. The PowerShot S95 also offers Multi-Aspect shooting, with 3:2, 4:3, 1:1, 16:9 and 4:5 formats supported. Allowing photographers to shoot according to their subject or the intended use of the image, Multi-Aspect shooting provides the ability to choose which composition and result they want to capture as the image is taken, without the need for post-processing.

Easy, wireless content transfers are supported by Eye-Fi connected functions, allowing remote uploads to image sharing websites such as CANON iMAGE GATEWAY. The camera features a dedicated Eye-Fi section within the User Interface, and disables the auto power-down function when the Eye-Fi card transmits data – allowing the easy transfer of content without interruption*3.

Providing excellent all-round image quality and excelling in low light, the PowerShot S95 offers an extensive feature set designed to deliver outstanding performance. Built for those who want the perfect combination of portability, power and control, it's the ultimate pocket-camera for the even the most advanced photographer.

Share stories with CANON iMAGE GATEWAY
Owners of the PowerShot S95 can join the CANON iMAGE GATEWAY, an online facility for sharing photos and video. Photographers can take advantage of up to 2GB of personal storage capacity, creating enough room for hundreds of high-quality images. Mobile browsing is also supported, making it easy for friends and family to view photos on the move.

Canon PowerShot S95 – key features:

HS System & f/2 lens
High-sensitivity 10 MP CCD
28mm wide, 3.8x zoom lens, Hybrid IS
Lens Control Ring, Full Manual & RAW
7.5 cm (3.0″) PureColor II G LCD
HD movies, HDMI
High Dynamic Range mode
Smart Auto
Multi-Aspect Shooting
Optional Waterproof Case
*1 CIPA Compliant
*2 Tripod required for High Dynamic Range shooting
*3 This product is not guaranteed to support Eye-Fi card functions (including wireless transfer). In case of an issue with an Eye-Fi card, please check with the card manufacturer.
Also note that approval is required to use Eye-Fi cards in many countries or regions. Without approval, use of the card is not permitted. If it is unclear whether the card has been approved for use in the area, please check with the card manufacturer.

Lumix LX5 press release

PANASONIC LUMIX LX5, THE ULTIMATE COMPACT HIGH-PERFORMING DIGITAL CAMERA AIMS FOR SUPERB PHOTO QUALITY, ESPECIALLY IN LOW-LIGHT ENVIRONMENTS

Panasonic LUMIX LX5 Features New High Sensitivity CCD and F2.0 Leica Lens for Shooting Stunning Photography and Vivid High Definition Videos

SECAUCUS, NJ (July 21, 2010) – Panasonic today announced the LUMIX DMC-LX5, the ultimate compact, high-performing digital camera offering photo enthusiasts the ideal camera for capturing professional-quality photos and High Definition (HD) video.  With an ultra-bright F2.0 ultra-wide-angle 24mm LEICA DC VARIO-SUMMICRON lens, the LUMIX LX5 minimizes image distortion, resulting in stunning, true-to-life images with outstanding resolution and detail. The 24mm wide angle lens offers extraordinarily large viewing space and now the optical zoom is extended to 3.8x(90mm) making the LX5 even more versatile.

"The Panasonic LUMIX LX-Series cameras have been extremely popular models for us with professional and enthusiast photographers, who understand and value the superb image quality such a compact, affordable digital camera can offer," said David Briganti, Senior Product Manager, Imaging, Panasonic Consumer Electronics Company. "We expect the same enthusiasm, if not more, for the LUMIX LX5, which features improvements to the lens and processing – resulting in even better images."

The Panasonic LUMIX LX5 is a unique compact digital camera in that it offers superb image quality along with a super-bright lens and increased creative modes.  The F2.0 lens is twice as bright as a F2.8 lens, making it easy to produce beautiful photos with a soft-focused background thanks to the shallow depth of field provided by the extra light. In addition to the newly-designed lens, the LUMIX LX5 features an image processing engine that combines technologies resulting in professional-quality photos, especially in low-light situations.  Like its predecessor, the LUMIX LX5 features the highly-acclaimed 10.1-megapixel CCD, but it has an expanded dynamic range by increasing the sensitivity and the saturation.

The newly developed Venus Engine FHD image processor enables higher-speed, higher-performance while compiling the Intelligent Resolution technology. The triple CPUs in this imaging engine dramatically speeds up processing while achieving exceptional noise reduction performance. With its high-sensitivity CCD and the brightness of the lens, minimum illumination of the LUMIX LX5 is as low as 3 lux while shooting video.

In addition to capturing high-quality still photos, the LUMIX LX5 can record HD videos in AVCHD Lite, a format that allows almost doubling the recording time in HD quality compared with the conventional Motion JPEG format. Creative video shooting modes include Creative Movie mode, where users can set shutter speed and aperture manually to make even more impressive movies. My Color mode and Film mode are available for more extended expression not only in photography but also in videography.  The LUMIX LX5 also features Dolby Digital Creator to record high quality audio and the 3.8x optical zoom is available while shooting video.

The LUMIX LX5 has also been redesigned externally – with a thicker grip making it easier to hold and a newly-incorporated turn-and-push jog dial achieves various selection and setting more quickly. The LUMIX LX5 also features a hot shoe, which allows for the attachment of a wide-variety of accessories, such as an optional Live View Finder which helps shooting under strong daylight with high visibility or an external flash. The 1:1 square format setting is added in the aspect ratio option which can be selected with the switch at the side of the lens barrel.

Other features of the Panasonic LUMIX LX5, include:

The 3.0-inch large 460,000-dot high resolution Intelligent LCD also redesigned by adopting High CRI (Color Rendering Index) backlight LED to greatly increase the color reproduction, making it more visible both in shooting and playing back images in any conditions from at dark night to under bright sunlight.
Battery life is extended to shoot 400 photos (CIPA) per a single charge.
A wide-variety of accessories, including a Live View Finder (DMW-LVF1), External Optical View Finder (DMW-VF1),  Wide Conversion Lens (DMW-LWA52), Conversion Lens Adaptor (DMW-LA6), MC Protector (DMW-MC52), ND Filter (DMW-LND52), PL Filter: DMW-LPL52, External Flashes, Leather Case (DMW-CLX5) and a Battery Pack (DMW-BCJ13).

The Panasonic LUMIX DMC-LX5 will be available in late-August 2010 for a suggested retail of $499.95 and will be available in black and white models.