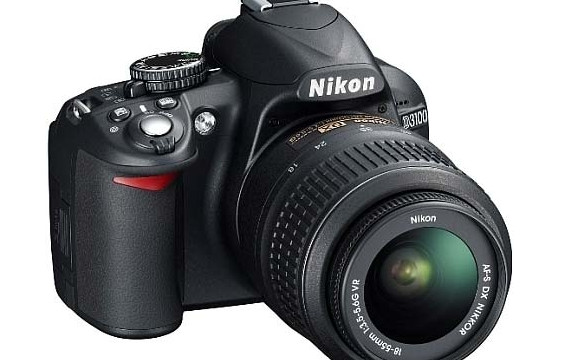 Already one of our very favourite entry-level dSLRs, Nikon has made its D3100 camera all the more alluring by offering a £40/€50 cashback deal when the camera is purchased in the UK and Republic of Ireland.
Capable snapper
Billed as the smallest and lightest Nikon D-SLR yet, the compact D3100 is a hugely capable snapper, packing a DX-format, 14.2 megapixel CMOS image sensor, with a new image processing engine doing all the clever stuff behind the scenes.
Running from 1st March – 4th May 2011, the deal is applicable to cameras bought in the UK or Republic of Ireland, and claims must be received by 5th June 2011.
Buy it now! Bag the Nikon D3100 18-55vr Kit on Amazon
Nikon UK Press Release

Nikon D3100 digital-SLR camera primary specifications

Type
Single-lens reflex digital camera
Lens mount
Nikon F mount (with AF contacts)
Effective pixels
14.2 million
Image sensor
23.1 x 15.4 mm CMOS sensor
Image size (pixels)
4,608 x 3,072 [L]
3,456 x 2,304 [M]
2,304 x 1,536 [S]
File format
1) NEF(RAW), 2)JPEG, 3)NEF(RAW)+JPEG
Media
SD (Secure Digital) memory cards *1, SDHC- and SDXC-compliant
Frame advance rate
Up to 3 fps *2
ISO sensitivity
ISO 100 to 3200 in steps of 1 EV; Can also be set to approx. 1 EV above ISO 3200 (ISO 6400 equivalent) or to approx. 2 EV above ISO 3200 (ISO 12800 equivalent); auto ISO sensitivity control available
Movie
Frame size (pixels) and frame rate: 1,920 x 1,080; 24 p – 1,280 x 720; 30 p – 1,280 x 720; 25 p – 1,280 x 720; 24 p – 640 x 424; 24 p
Maximum Recording Time:10 min.
File format/Video compression: MOV, H.264/MPEG-4 Advanced Video Cording
Audio recording device; Supported:monaural recording with built-in microphone.
LCD monitor
3-in., approx. 230 k-dot TFT LCD with brightness adjustment
Power source
Battery; One rechargeable Li-ion EN-EL14 battery
AC adapter(optional);EH-5a AC adapter; requires EP-5 power connector
Dimensions (approx.)
(W x H x D)
124 X 96 X 74.5mm
Weight (approx.)
455g without battery, memory card, or body cap,
505g;with battery and memory card but without body cap
Major supplied accessories
EN-EL14 rechargeable Li-ion battery, MH-24 battery charger, AN-DC3 camera strap, ViewNX 2 CD-ROM, Ferrite Core (2 types)

CAPTURE A NEW SEASON WITH NIKON'S SPRING CASHBACK OFFER

1st March 2011: Nikon UK today announces a new spring promotion entitling customers to claim £40/€50 cashback when purchasing the Nikon D3100 digital SLR from 1st March – 4th May 2011 (inclusive).
The promotion is available to customers in the UK and Republic of Ireland. Claims must be received by 5th June 2011. Full terms and conditions and information about how to claim the cashback can be found at http://www.nikon.co.uk/cashback.

The Nikon D3100 is the most easy-to-use D-SLR to date, offering a range of high performance features that are designed to make taking quality images fun and easy. The camera's Guide mode offers step-by-step instructions for changing camera settings that helps improve photography skills whilst capturing perfect images.

The D3100 is Nikon's first DSLR to offer full HD movie mode which can be accessed at the click of a button so users can switch between shooting stills and movie with ease. And, with an HDMI port the D3100 can be connected to the TV to relive special moments with friends and family.

Simon Iddon, Nikon's enthusiast product manager, comments: "We're pleased to introduce a new cashback offer on the award winning D3100; with spring around the corner and the upcoming bank holidays, now is the perfect time to invest in a digital SLR that will allow you to capture high quality images you'll want to treasure."

Offer subject to availability.