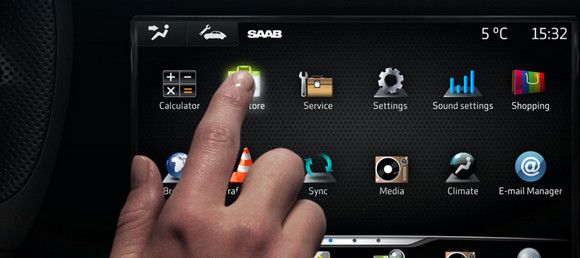 Swish Swedish car maker SAAB has announced that it will be embracing the Android OS for its forthcoming in-car communication and infotainment system.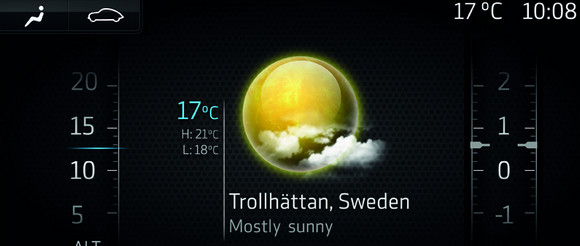 Claiming to be "changing the auto industry infotainment landscape by engaging external partners in 'open innovation' for the development of its new IQon infotainment concept", SAAB say that their 'open innovation' policy marks a first in the automotive industry.
Wireless connectivity
Saab's iQon embedded computer platform packs a wireless modem which hooks up to the Internet when the car's ignition is turned, with an 8-inch touch screen interface providing access to audio and entertainment streaming, the IQon App Store, on-board music storage, and online navigation.
The new Android-powered system will also let users download custom applications wirelessly, with the company's open innovation environment giving developers access to over 500 signals coming from vehicle sensors, opening up all sorts of possibilities for system monitoring and diagnostics.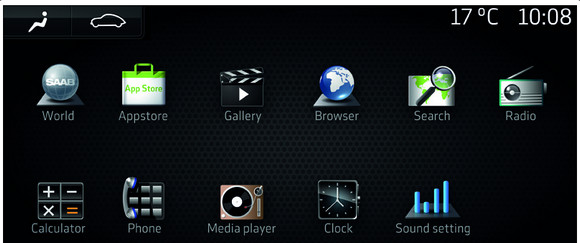 "With Saab IQon, there are no limits to the potential for innovation," insisted Johan Formgren, Head of Saab Aftersales and commercial project leader for IQon. "We will be inviting the global Android developer community to use their imagination and ingenuity."
Just like a smartphone, users will be able to download and customise their in-car system, although – not surprisingly – the iQon store will be a closed one, with Saab evaluating and certifying both developer and app for safety reasons – so don't expect any fart apps or Angry Birds appearing on the dashboard.
Here's the full press release:
TROLLHATTAN, Sweden, March 1, 2011 /PRNewswire/ –

* Ground-breaking car communications platform using Android operating system
* Enables flexible upgrading and personalization during the car's lifecycle through downloading applications like a smartphone
* Based on pioneering 'open innovation' with third-party service providers and applications developers
* Test fleet on the road with beta version of IQon system

Saab Automobile is changing the auto industry infotainment landscape by engaging external partners in 'open innovation' for the development of its new IQon infotainment concept, using Google's Android operating system.

Saab IQon delivers a completely new car infotainment user experience, combining all that's best from the mobile industry with Saab's automotive knowledge and innovative spirit to create an infotainment system for the next generation of Saab cars.

Users will be able to download a wide range of applications, online services and multi-media functions provided through a Saab IQon store. Saab will issue third-party developers with a vehicle application programming interface (API) providing access to more than 500 signals from different sensors in the vehicle. These measure, for example, vehicle speed, location and direction of travel, driver workload, yaw rate, steering wheel angle, engine speed and torque, inside and outside temperature, barometric pressure and the sun's position.

"With Saab IQon, there are no limits to the potential for innovation," says Johan Formgren, Head of Saab Aftersales and commercial project leader for IQon. "We will be inviting the global Android developer community to use their imagination and ingenuity."

Saab's collegiate development strategy – open innovation – is a 'first' in the automotive industry and provides a faster, more efficient and more flexible alternative to the conventional, in-house development of vehicle infotainment services.

"Today's customers want to be as well connected inside the car as they are at all other times," adds Formgren. "IQon will give them the convenient, seamless connectivity they enjoy with smartphones, while adding new car-specific programs and services."

IQon provides an embedded computer platform in the car with a modem which automatically connects to the internet when the car's ignition is switched on. An 8-inch touchscreen provides access to services, including audio and entertainment streaming, online navigation and on-board music storage.

Saab's 'open innovation' strategy offers the global developer community access to the full bandwidth of car communications – infotainment, telematics, systems monitoring and diagnostics. In this way, it opens up new dimensions in customer choice for the personalization of in-car services. Even applications specific to particular countries can be included.

"Our open innovation strategy, using the Android operating system, will keep the provision of in-car infotainment up to date," adds Formgren. "IQon will allow infotainment services to constantly evolve during the lifetime of a car's product cycle, unlike current in-car systems which are fixed some years before a car goes on sale and then remain static."

To ensure high driving safety and quality standards are maintained, programs from software developers and application providers will be evaluated and approved by Saab before they are made available to customers through the online Saab IQon store.

IQon also provides a platform for remote communication to and from the car with Saab dealerships, for example, using telemetry to upload vehicle data, carry out diagnostics, provide service appointments or even install some in-car options.

The IQon system is shown for the first time in the Saab PhoeniX concept car at the 2011 Geneva Motor Show. A beta version of the IQon system is already being trialed with company users in a fleet of test cars.

SOURCE Saab Cars North America