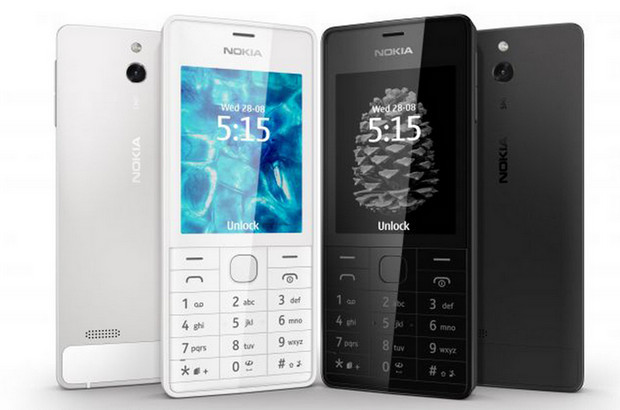 Hi-tech smartphone-sated children today may be amazed to learn that back in the day mobile phones had battery lives that stretched into weeks rather than hours, and that handsets had crazy old fashioned things like buttons. Imagine!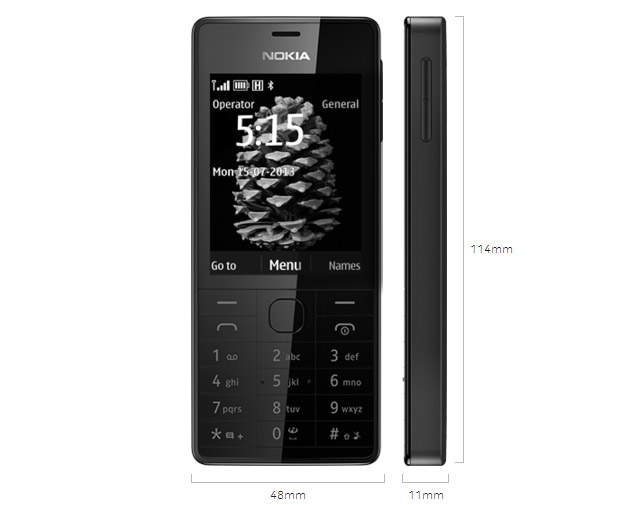 This was a long distant time when Nokia ruled supreme, and their annoying ring tone could be heard ringing out across the land.
Perhaps hoping to persuade us that simple can indeed be best, Nokia have released the Nokia 515, an updated take on their dumbphones of yore, and it's a rather attractive package.
It's certainly not as cheap as some of the rock bottom old school phones on the market, but for around £125, you get a handset with with an old fashioned keypad and a  2.4″ 262K-color 240 x 320 TFT display (non touchscreen) protected by Corning Gorilla Glass 2.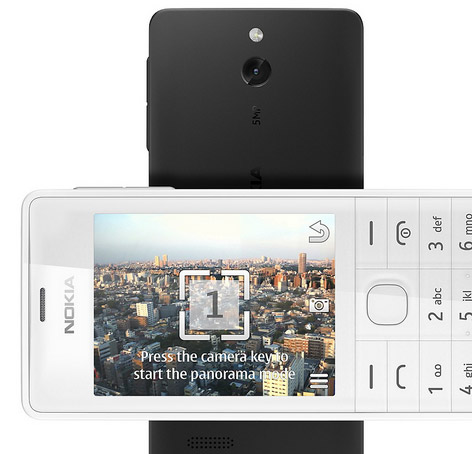 There's a 5MP camera with LED flash, face detection, panorama and QVGA video recording around the back, 256MB internal storage, 64MB RAM and quad-band GSM/GPRS/EDGE support plus dual-band 3G with HSDPA, but, annoyingly no wi-fi.
Running the S40 6th edition OS, the phone also packs an FM Radio, Bluetooth v3.0 and supports voice commands.
There's social apps on board to keep you connected, an accelerometer and proximity sensor backed by a 1200mAh Li-Ion battery for oodles of battery life.
For folks who need a long battery life over all the latest features, this seems a decent enough package to keep you connected and the addition of social apps and a 5MP camera means that the smartphone basics are adequately covered.
If this number takes your fancy, you can but it on Amazon here: Nokia 515 Sim Free Mobile Phone – Black
Here's all the specs you could wish for:
Dimensions

Height: 114 mm
Width: 48 mm
Thickness: 11 mm
Weight: 101.1 g

Display and User Interface

Display size: 2.4 "
Display resolution: QVGA (320 x 240)
Display features: Brightness control, RGB Stripe, Corning® Gorilla® Glass 2
Display colors: HighColor (18-bit/262k)
Aspect ratio: 4:3
Pixel density: 166 ppi
Display technology: LCD Transmissive

Keys and Input Methods

User Input: Keypad
Operating keys: Volume keys, Call key, 4-way Navi key with select, Alphanumeric keypad, Power/End key

Form factor
Hardware

Connectivity

SIM card type: Micro SIM
Charging connectors: Micro-USB
AV connectors: 3.5 mm audio connector
System connectors: Micro-USB-B
USB: USB 2.0, USB mass storage
Bluetooth: Bluetooth 3.0
Bluetooth profiles: Object Push profile (OPP) 1.1, Hands-free profile (HFP) 1.5, Headset profile (HSP) 1.1, SIM Access Profile (SAP), Serial Port profile (SPP), Phone Book Access Profile (PBAP) 1.0, Advanced Audio Distribution Profile (A2DP) 1.2, Audio/Video Remote Control Profile (AVRCP) 1.4, General Audio/Video Distribution Profile (GAVDP), Service Discovery Application Profile (SDAP)
Wi-Fi: No Wi-Fi

Data Network

WCDMA network: 900 MHz, 2100 MHz
WCDMA max data speed DL: HSDPA – 7.2 Mbps
WCDMA max data speed UL: HSUPA – 5.76 Mbps
GSM network: 850 MHz, 900 MHz, 1800 MHz, 1900 MHz
GSM max data speed DL: EGPRS 236.8 kbps
GSM max data speed UL: EGPRS 236.8 kbps

Power Management2

Battery model: BL-4U
Battery capacity: 1200 mAh
Battery voltage: 3.7 V
Removable battery: Yes
Maximum standby time: 33 days
Maximum talk time (2G): 10.4 h
Maximum talk time (3G): 5.3 h

Memory

User data storage: In device, Memory card
RAM: 64 MB
Expandable memory card type: MicroSD
Maximum memory card size: 32 GB
Software and applications

Productivity features

Personal information management features: Dictionary, Recorder, Calculator, Clock, World clock, Calendar, Converter, Notes, Alarm clock, Reminders, To-do list
Sync type: Remote SyncML synchronisation, Local SyncML synchronisation
Sync content: Calendar, Contacts

Other Applications

Game features: Java games
Graphics format: JPEG, OTA, DCF, BMP, SVG, GIF89a, M3G, OTA BMP, PNG, WBMP, GIF87a, SVG-T

Software platform & User Interface

SW Platform: Series 40
Software release: Series 40
Communications

Email and Messaging3

Email clients: Mail for Exchange, Direct mail
Email protocols: SMTP, IMAP4, POP3, IMAP4 IDLE
Email features: Always up to date, Multiple simultaneous email accounts, Email attachments, Viewing of email attachments, IMAP IDLE
Supported instant messaging services: Nokia Chat
Messaging features: Concatenated SMS for long messages, Multiple SMS deletion, Text messaging, Multimedia messaging

Call management

Call management features: Call waiting, Automatic redial, Call forwarding, Anykey answer, Speed dial
Supported amount of phonebooks: 1
Supports amount of contacts: 1000
Ringtones: 32-polyphonic ringtones
Speech codecs: AMR-WB, AMR-NB
VoiP codecs: G.711, G.729, iLBC, G.726, AMR-NB, GSM EFR, AMR-WB, GSM FR
Device security

Security

General Security features: Device lock, Device passcode, PIN code
Data encryption: User data encryption for memory card
Sharing and Internet

Browsing and Internet

Internet browser capabilities: Nokia Xpress Browser
Social apps: Facebook, Twitter
Photo sharing: Share over Bluetooth, Facebook, Photo sharing with Slam
Navigation

GPS and navigation4

Location and navigation apps: Nokia Nearby
Navigation features: Reveal the surrounding places
Location technologies: Cellular network positioning
Photography

Main camera

Main camera sensor: 5 MP
Camera resolution: 2592 x 1944 pixels
Main camera focus type: Full focus technology (EDoF)
Camera digital zoom: 3 x
Main camera f-number/aperture: f/2.4
Camera image formats: JPEG, JPEG/Exif
Flash type: LED flash
Flash modes: Off, Automatic, On

Main camera features

Main camera – other features: Face recognition, Full screen viewfinder

Image capturing

Capture modes: Panorama, Sequence, Self-timer, Video
Colour tone modes: Sepia, Greyscale, Normal, Negative
White balance modes: Cloudy, Incandescent, Sunny, Shade, Fluorescent, Daylight, Automatic, Lightbulb
Light sensitivity: Automatic
Photos viewed by: Album
Music and Audio

Music

DRM support: OMA DRM 2
Audio features: Music Player

Music format

Codecs: MP3, AMR-WB, LPCM, AMR-NB, MIDI, a-law, NRT, SP-MIDI, Mobile XMF, AAC LTP, AAC LC, mu-law, AAC+/HEAAC, eAAC+/HEAACv2, ADPCM
Audio playback file formats: WAV, MXMF, AAC, MP3, AWB, M4A, NRT, MIDI

Radio

Radio features: Radio recording5, FM RDS radio

Voice and audio recording

Recording: Voice recorder
Audio recording file formats: AMR
Audio recording codecs: AMR-NB
Audio recording features: Stereo
Video

Main video camera

Camera video resolution: QVGA (320 x 240)
Camera video frame rate: 30 fps
Camera video zoom: 2 x
Video playback frame rate: 30 fps
Video playback codecs: H.264/AVC, H.263, MPEG-4
Video playback file formats: MP4, AVI, 3GP, 3G2, M4V
Video recording formats: 3GP/H.263, MP4/MPEG-4
Video recording colour modes: Negative, Normal, Greyscale, Sepia
Video playback features: Video editing
Video scene modes: Portrait, Landscape
Video white balance modes: Fluorescent, Incandescent, Automatic, Daylight

Main video camera features

Video streaming: YouTube browsing and video streaming, Progressive video download
Video recording features: Video zoom
Environment

Environmental features

Materials: Free of PVC, Free of nickel on the product surface, Free of BFR, rFR as in Nokia Substance List
Energy efficiency: Unplug charger reminder, Energy efficient charger
Eco content and services: Available at Nokia Store
Recycling: 100% recoverable as materials and energy
User guide: One colour printing
Packaging: Made of renewable materials, Containing up to 60% recycled materials, Minimized package, Packaging is 100 % recyclable
Accessibility

Accessibility features

Hearing: Vibrating alerts
Vision: Vibrating alerts, Zoom
Physical skills: Speed dial, Speakerphone
What's in the box

Box

Sales Package: Nokia 515, High Efficiency Charger AC-20, Nokia Battery BL-4U 1200 mAh, Nokia Stereo Headset WH-108, User Guide, Battery cover release tool