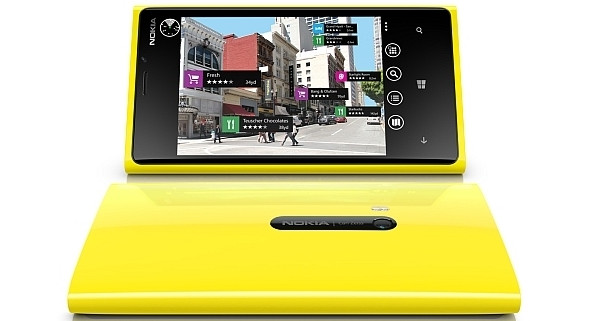 Nokia's new Lumia 920 and the Nokia Lumia 820 handsets – the first devices in Nokia's Windows Phone 8 range – are currently limbering up on the touchlines, ready to rip off their brightly coloured tops and leg it into the UK.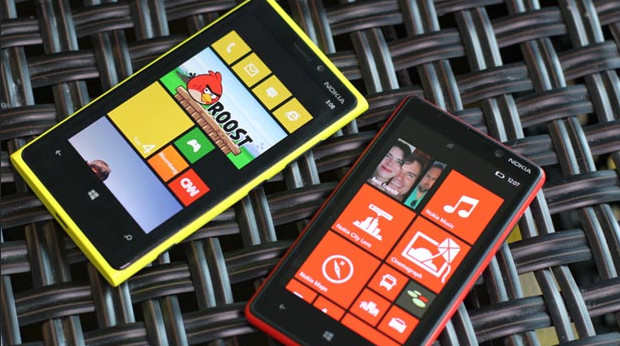 The Lumia 920 will be launched exclusively on EE and Phones 4u in the UK, giving it access to the UK's first superfast 4G network, while the Nokia Lumia 820 will be sold on EE.
In case you've no idea what this EE thing is, it's not the sound of a speeding mini-motorbike, but the new network lovechild of Orange and T-Mobile, called Everything Everywhere.  It truly is a rubbish name.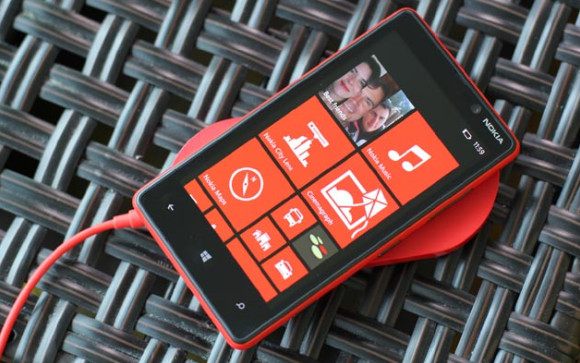 Phones 4u will exclusively stock the full hangover-increasing colour range for both the Lumia 820 and 920, with red, black, white and yellow versions available.
The Lumia 820 will also be available from O2, Carphone Warehouse and Tesco Phone Shop from early November, with availability on other networks to follow.
Gyrate your mouse wheel in a southerly direction to read the thrill-packed press release below.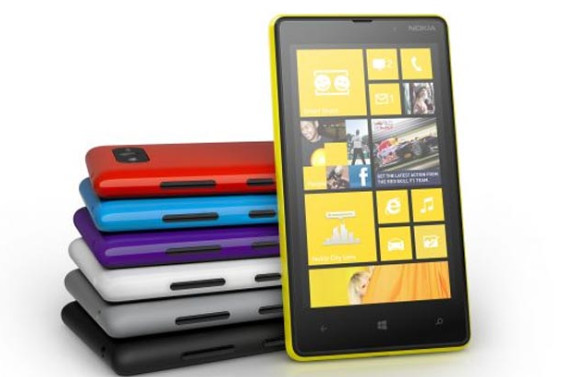 Nokia Press Release

The wait is almost over for UK consumers as the world's most innovative smartphones, the Nokia Lumia 920 & 820, start shipping today

London, UK – Nokia today announced the Nokia Lumia 920 and the Nokia Lumia 820, the world's most innovative smartphones, and the first devices in Nokia's Windows Phone 8 range, are now on their way to the UK.

The Lumia 920 will be launched exclusively on EE and Phones 4u in the UK, making it available on the UK's first 4G network from launch – allowing customers to enjoy average speeds five times faster than 3G. EE will also be ranging the Nokia Lumia 820.

Paul Jevons, Director of Products and Devices, EE, said: "We believe the best smartphones deserve the best network, so the new Lumia 920 and 820 are perfect additions to our four device range.

By combining Nokia's innovative hardware with the power of our superfast 4G network, we're providing consumers with an amazing mobile experience that will enhance their digital lives. Whether watching videos, social networking, browsing the web or working on the move, 4G allows customers to do everything faster – allowing customers to make full use of the power the Lumia 920 and 820 provide."

Phones 4u will exclusively stock the full colour range for both the Lumia 820 and 920, with red, black, white and yellow versions available.

Scott Hooton, Chief Commercial Officer at Phones 4u comments: "Nokia has continued to innovate, enhance and surprise us with its growing Lumia family of smartphones, and once again, we're thrilled to be able to provide our customers with an exclusive collection of colours across the first smartphones in Nokia's Windows Phone 8 range – the Lumia 920 and Lumia 820.

As the retailer who sells more Windows Phones in the UK than anyone else, we know that our customers are strong advocates of Windows Phone and are excited about the arrival of Windows Phone 8 to the Nokia Lumia smartphone range and the benefits this people powered operating system will bring to their mobile lives."

The Lumia 820 will be available from O2, Carphone Warehouse and Tesco Phone Shop from early November. Further availability announcements will follow.

Sam Perkins, Tesco Telecoms Category Director, said:

"The new Lumia range showcases how Windows smartphones are coming of age. These stylish handsets are going to appeal to a wide range of consumers who want elegant design and all the latest functionality. We see the Nokia Lumia 820 as being one of the hot handsets for Christmas this year as consumers get to experience the very best from Nokia."

The Nokia Lumia 920

The Nokia Lumia 920 is the flagship Windows Phone 8 smartphone and includes the latest advances in Nokia PureView imaging innovation. Using advanced floating lens technology, the camera in the Lumia 920 is able to take in five times more light than competing smartphones without using flash. This ability produces unrivaled, blur free images and video in low light conditions making it possible to capture clear, bright pictures and video indoors and at night.
Conor Pierce, VP for Nokia stated:

"We see the Lumia 920 as one of the most exciting phones we have launched at Nokia. It includes some truly groundbreaking innovations: Wireless charging, a screen that automatically adjusts its colour and brightness, depending on sunlight, a touchscreen that even works when you're wearing gloves and best of all it's a beautiful device; the Lumia 920 looks just awesome."

The Nokia Lumia 820

The Nokia Lumia 820 is a stylish, mid-range smartphone that delivers high-end performance in a compact package. Although the Lumia 820 has the same unibody look and feel as the other design winning Lumia smartphones, it comes with an exchangeable shell design. Exchangeable shells not only make it possible to select from a range of colours, but can also support wireless charging accessories.

Adrian Williams, Head of Channel Development for Nokia commented: "These two new Lumia devices have attracted huge interest from the business sector. The new Windows Phone 8 OS and outstanding product design means that both products offer an unrivalled ability to integrate with corporate IT infrastructures and be practical enough to be operated while wearing protective clothing."

Unique Features

Both Nokia Lumia devices come with an impressive list of unique features, from Nokia Maps which is rapidly becoming the standard of the automotive industry, through the free turn by turn navigation offered by Nokia Drive. With other Nokia applications such as Transport, Music, Reading and the ground breaking City Lens, from the box millions of apps, music tracks, books and games are available directly to Lumia owners.

Powered by Windows Phone 8

Windows Phone 8 provides a more personal smartphone experience, with a start screen that replaces endless lists of applications with animated Live Tiles, offering instant updates that can be more easily rearranged to reflect individual priorities and real-time updates on the things that matter most to each individual owner. The ability to sync content between Windows Phone 8 smartphones, Windows 8-based PCs, tablets and the Xbox means that files, music, pictures and video can be accessed in whichever way is most convenient. With Internet Explorer 10 for faster, safer browsing and Microsoft Office built into the platform, Windows Phone 8 is the easiest and best way to get things done.

Wireless charging and partners

Nokia innovation continues in the Lumia range as the world's first mass market smartphones to come with Qi (pronounced 'Chee') wireless charging. At the recent event in NYC, Nokia announced a range of wireless charging accessories and partnerships from the Fatboy Recharge Pillow, which provides a fun way to recharge your Lumia, to the JBL PowerUP, a retro styled high quality audio dock which also supports wireless charging and connectivity.

Virgin Atlantic has already announced plans to put wireless charging stations in the London Heathrow Clubhouse lounge and is the first of many to take wireless charging outside of the home and office.

Graham Stapleton, Chief Commercial Officer at Carphone Warehouse, said: "The launch of the new Lumia range shows that Nokia is continuing to stay at the forefront of mobile phone innovation. The Lumia 820 has a very distinct design that clearly stands out from the crowd and will no doubt prove very popular with those customers looking to make a statement with a smartphone that is both functional and stylish. The Windows Phone 8 operating system is highly intuitive and combined with the handset's superb form factors will no doubt create a new wave of advocates for the brand and have a significant impact on Nokia's position within the industry."