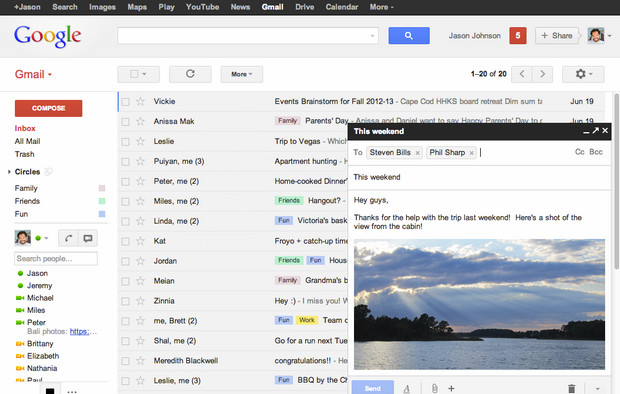 We're rather chuffed to see Google fixing one of the rather minor annoyances in their otherwise excellent GMail product.
Currently, if you're half way through writing an email and want to look up a previous email, you have to save your words as a draft, open the other email, and then reopen your draft mail to continue working.
Google have come up with a solution in the shape of the pop-up compose window (like a large chat window) that lets you open other mails in the background or write multiple messages at once. We like. Very much.
Here's how Google describe the feature:
The new compose is designed to let you focus on what's important: your message. The controls are still there when you need them but get out of the way when you don't. We've even added some new features like the ability to easily insert inline images and have more to come.

And, when you add recipients to your message, you'll see profile pictures of your contacts in autocomplete helping you find the right person faster. You can also drag and drop the new address chips between to:, cc: and bcc:. When you're done adding recipients, the address area collapses automatically to get out of your way.
Google will be rolling out a preview of the new compose and reply feature today and they explain more about the update here.
Now if they could only sort out a decent Google tasks interface and an address book that doesn't look like it was designed for an Amiga A1200 in 1993, we'd be even happier.