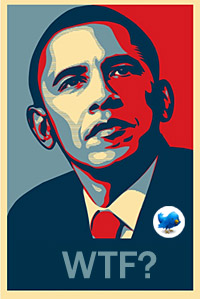 Barack Obama's Nobel Peace Prize award has taken a lot of people by surprise – including El Presidento himself, apparently – and Twitter users (or should that be the Twitterosphere?) were quick to chip in with their opinions.
Within seconds of the announcement being made, keyboards rattled into furious action, with a wide variety of sentiments being thrust into Twittersville.
To save you churning through zillions of posts, those crazy boffins at Crimson Hexagon, used some clever-clogs technology to analyse the gist of what the overall reaction was.
Here's a natty diagram illustrating their findings: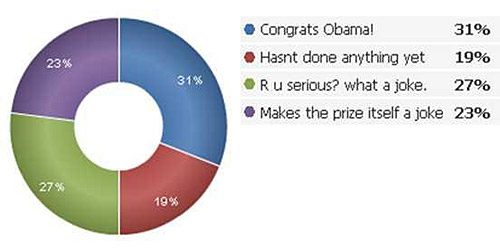 According to their results, 31% of tweets were positive about Obama's award with the remainder expressing a host of negative opinions (often featuring the acronym 'WTF,' we imagine).
urban75 says
The bulletin boards on our sister site, urban75 were even more damning, with posters describing the award as "the triumph of optimism over achievement," "a parcel of shit," and "a farce."
One lone poster defended the award, praising Obama's achievement as "bringing hope to millions of people, helping to change the nature of race in the US, fighting the medical lobby and republican party to try and bring health care to the poor [and] rising from a poor background to become president of the US."
Elsewhere, a poll on the Guardian's site asked the question: Did President Obama deserve the 2009 Nobel peace prize?
The results so far are almost identical to Twitter's:
31.3%        Yes. He's changed the landscape
68.7%        No. It's far too early