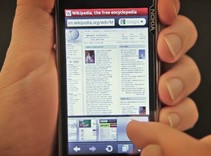 The Norwegian code-boffins behind the Opera desktop browser, Opera Mobile for Windows Mobile and Opera Mini have just released Opera Mobile 10 Beta for Symbian.
Written in Symbian code rather than J2ME code, the browser has had a quick once over on a Nokia N97 by the guys at intombobile.
They've declared it to be, "noticeably more responsive than Opera Mini 5 Beta, the copy and paste actually works now, best of all it is possible to copy and paste text from the browser to another application. "
There's also support for Opera Turbo built in, but it's disabled by default.
Turbo works by redirecting URL requests to Opera's servers which use smartypants compression technology to slim Fatty Arbuckle pages down to a mere shadow of their former selves, whisking the resulting Kate Moss-like waif pages back to the users mobile phone at an increased rate of knots.
We have to say that we've never really warmed to Opera Mobile Mini.
Much as we appreciate and admire its clever technology and speedy rendering, there just doesn't seem enough there to make us switch from the perfectly capable browsers in our iPhone, Palm and Android devices.