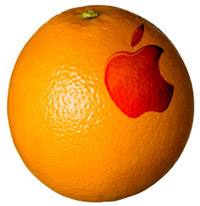 With the lucrative Christmas market in mind, the Orange network will start selling the iPhone in just over two weeks.
As we reported last month,both Orange and T-Mobile were ready to start offering Apple's iconic handset after O2's exclusive two-year deal to distribute the phone ended.
According to the Guardian, Orange is set to launch the iPhone on the 10th November, the day after O2's deal runs out.
Such is the appeal of the phone that Orange have said that over 200,000 customers have already registered their interest in getting the device – and that's before the company has even announced how much they're going to charge for it!
The iPhone will be sold through Orange stores and the High Street retailer Phones4U.
With T-Mobile and 3 also set to be offering the phone in the near future, bargain hunters may be in for a treat if the expected price war breaks out, with punters – and Apple – emerging as the winners.