Looking more like a revamped Centro, Palm's Pixi Plus has finally arrived in the UK and is hoping to prove a tempting alternative choice in the low end smartphone market.
The fabulous webOS
Although it's being touted as a bargain basement Palm product, it still comes with a full fat version of the delightful webOS mobile operating system (which remains the best we've used on any smartphone to date).

Like the Centro, the Pixi Plus has a full QWERTY keyboard on the front with keys that look almost impossibly small, but are surprisingly usable once you get your digits tapping on them.
A bit short in the app department
Palm has struggled to gain traction in the UK, not helped by an almost non-existent launch and a disastrous PR campaign, and a piddling app store that continues to punish UK users for, well, not living in the US.
For example, it's still impossible to buy popular games like Scrabble via the UK app store for reasons that continue to baffle us, even though US users have been able to download it for months.
That said, perhaps the dearth of high end apps won't be such a problem for Pixi users, who are unlikely to be as demanding as Palm Pre owners.
Will the price be right?
If you're a fan of the Blackberry/Treo form factor the Pixi may well be worth a look, although seeing as it's sadly stuck on the o2 network, its success will no doubt depend on whether they apply more of their insane pricing or not.
If it is offered at a highly competitive rate, then Palm may finally have a winner on its hand, as it's a lovely looking phone in a neat, attractive and fairly powerful package.
Techradar have just reviewed the Pixi Plus, concluding that it was the "best second-tier, affordable smartphone on the market:"
All things considered, the Palm Pixi Plus is the best second-tier, affordable smartphone on the market.

It takes everything that's good about its more illustrious sibling and squeezes into a tighter package, even improving in some areas, and it's more than a match for phones like the HTC Smart.

The keyboard is more reliable and somehow easier to master than the Palm Pre Plus', despite the further diminished size. Without the cheese-cutting rim, it's also a more comfortable device to take charge of.

Palm's web OS is present in all its glory, and only the slightly less powerful chip prevents it from boasting exactly the same experience.

If you're a newcomer to the smartphone arena after years of toiling away on the Nokia or Sony Ericsson phones, then web OS is the perfect introduction. It's straightforward, easy to use and intuitive.

The device has limitations, but these are wholly acceptable. It's impossible to complain about a slightly slower experience (and sometimes it is very slow) or the smaller camera lens, or the smaller screen, when you have such a well-functioning device at a much lower premium than the big brother.

Usually these budget devices leave us craving for the real thing, but the we were wholly satisfied with continued use of the Pixi Plus. Having just reviewed the Pre Plus, we didn't miss it at all.
[Full review on Techradar]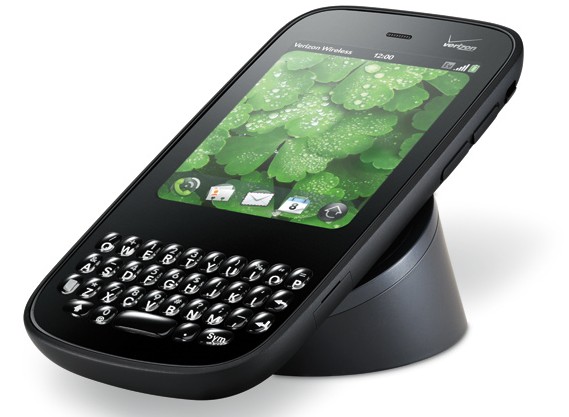 Palm Pixi Plus specs:
Color

Black

Operating system

Palm webOS™ Platform

Network specs

UMTS/HSDPA and GSM/EDGE

Display

2.63-inch multitouch screen with a vibrant 18-bit color, 320×400 resolution Sub-HVGA display

Keyboard

Physical QWERTY keyboard

Email

Microsoft® Exchange email with Microsoft
Direct Push-Technology
POP3/IMAP (Yahoo! Mail, Gmail™, AOL, Hotmail®, etc.)

Messaging

Integrated IM, SMS, and MMS

GPS

Built-in GPS

Digital camera

2-megapixel camera with LED flash, geotagging, and video capture

Sensors

Ambient light, accelerometer, and proximity

Media formats supported

Audio formats: MP3, AAC, AAC+, eAAC+, AMR, QCELP, WAV
Video formats: MPEG-4, H.263, H.264

Wireless connectivity

Wi-Fi 802.11b/g with WPA, WPA2, WEP, 802.1X authentication;
Bluetooth® wireless technology 2.1 + EDR with A2DP stereo Bluetooth support;

Memory

8 GB (7 GB available)

Battery life

Up to 5.5 hours talk time
350 hours standby time

Connector

Charger/microUSB connector with USB 2.0 Hi-Speed

Headphone jack

3.5 mm (Stereo)

Palm Touchstone

Charging Dock

Compatible

Dimensions

Width: 55.5 mm
Height: 111.5 mm
Thickness: 10.85 mm

Weight

94 Grams