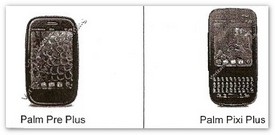 Leaked ahead of the anticipated announcement at Palm's CES event today are the specs for the new Palm Pre Plus and Pixi Plus handsets, headed for the Verizon network in the States.
The leak comes courtesy of a Verizon-branded spec sheet, and there's no real revelations to be found: the Pre Plus increases the storage to a more useful 16GB, while the Pixi Plus sticks with the 8GB storage but gets  Wi-Fi bolted on.
Video inexplicably remains absent on both models, even though some hackers have already got it working.
For a low end smartphone, we found rather a lot to like about the Pixi, and the addition of Wi-Fi will no doubt considerably add to its appeal amongst its target market (think 'da yoot').
Things may be heating up for Verizon customers, but once again Palm are giving us Brits the short end of the smelly stick, and there's no firm indication of whether we can expect the Palm Pre Plus and Pixi Plus – or, indeed, the plain ol' Pixi – any time at all, if ever.