When we think 'BlackBerry', we think flapping flip charts, swivel action suits, lantern-jawed pointing execs, pie-chart laden PowerPoint presentations and cappuccino-clutching folks hurtling along Fifth Avenue to a Very Important Meeting.
If that description fits you, then your executive Newton balls may start a-clacking over RIM's new BlackBerry Presenter, a pocketable (86 x 60 x 23mm) module that lets you dump your laptop, wirelessly hook up your BlackBerry and fire off a PowerPoint presentation via a VGA or S-Video connection.
With 24 supported animations and 55 transition styles from Microsoft PowerPoint 2003/2007, your annual data projections will send your audience wild with unbridled delight, and you can keep the smooth patter flowing by checking your notes from your BlackBerry's display.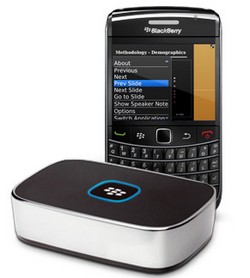 You can also freeze a slide on-screen while you browse through the rest of your presentation (or check put some pr0n if things are really boring), and there's a single button to put it to sleep, wake it up, or show a new presentation.
The Presenter is compatible with NTSC and PAL formats, and will be available soon online for $199, and in the stores in February.
Features
Easy set up
Present Microsoft PowerPoint files wirelessly from your BlackBerry smartphone
NTSC/PAL support
Carrying case included
Supports 24 animations and 55 transitions
Loop mode
Freeze mode
Speaker notes available
Upgradable application and BlackBerry Presenter software at www.blackberry.com/presenter
Compatibility
BlackBerry Curve 8520
BlackBerry Curve 8530
BlackBerry Curve 8900
BlackBerry Bold 9000
BlackBerry Storm 9500
BlackBerry Storm 9530
BlackBerry Storm2 9550
BlackBerry Tour 9630
BlackBerry Bold 9700