We're huge fans of the Palm webOS interface – we still think it's the best mobile operating system out there, bar none, even if the platform is woefully short of apps – so we're  very interested to hear details of the next generation OS coming up, webOS 2.0.
According to the folks at PreCentral – who have penned a comprehensive article on the update – the stand-out features of the new OS will  be:
Palm's multitasking 'card' metaphor is getting a refresh with Stacks
Universal Search is getting majorly beefed up with 'Quick Actions,' will be opened to developers, and rebranded as Just Type
Apps can have custom Touchstone at-a-glance views with Exhibition
Synergy is opening up to developers
HTML5 and Javascript support is much improved
Hybrid PDK/SDK apps will be fully supported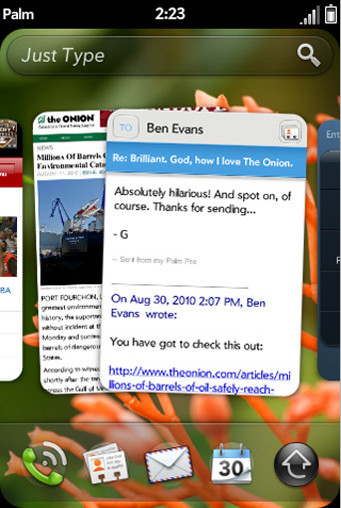 Stacks
The webOS 'card' interface remains a gloriously slick and intuitive way of multi-tasking on a phone, and Palm intend to improve on this with stacks.
Billed as the "the next generation of multi-tasking," the system groups together similar apps based on their association with each other, as the Palm blog explains:
Palm's groundbreaking card metaphor made multi-tasking on a handheld device easy and intuitive for the first time. webOS 2.0 takes it to the next level by grouping related cards in stacks, reducing clutter, and making it even easier to move quickly between tasks. webOS 2.0 automatically stacks cards for you when it makes sense, and you can also drag and drop cards to manage stacks yourself.
Just Type and Quick Actions

Palm's innovative Universal Search will see a transformation into "Just Type," a new, powerful feature letting users input text and then perform just about any action they want with it (a la Quicksilver on the MacOS):
Among the many Just Type enhancements is a powerful feature called Quick Actions. Start an email, create a message, update your status, search your favourite websites—all without having to launch an app. With webOS 2.0, whenever you want to do something on your phone, whether it's emailing, texting, searching, or almost anything else, just type!
Exhibition
Palm's cord-free Touchstone charger is something we've sorely missed since we drifted on to Android and iPhones, and the new 'exhibition' feature rubs our faces in it a bit more by adding new functionality with apps being specifically designed for when the phone is placed on the charger:
Set your phone on the dock and Exhibition launches automatically, showing you anything from today's agenda to a slideshow of your Facebook photos.
Synergy
One of the best – and most copied – innovations in webOS was the Synergy system which pulled together information from multiple sources automatically, seamlessly merging contact details for contacts from Facebook, Google, Microsoft Exchange, LinkedIn, and Yahoo! accounts. We loved it, and it makes the iPhone contacts options look near-Neanderthal in comparison.
In webOS 2.0, we're opening Synergy up to our developer ecosystem, so your customers can pull more of the web onto their phones. You'll be able to develop Synergy connectors for Contacts, Calendar, and Messaging–and later, for other webOS data types as well. Using the new Synergy APIs, you can let your users:

Connect to your chat or IM network from the webOS Messaging app
Access their personal contacts, their favorite businesses, or your community's shared address book from the webOS Contacts UI

View and manage their personal and shared calendars, keep track of their favourite sports and entertainment events, and more, from within the webOS Calendar app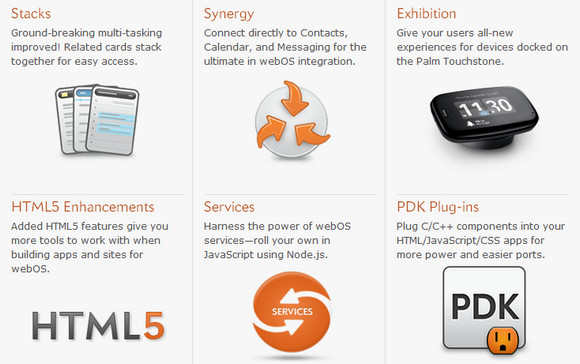 More developer tools
Palm has also beefed up support for the popular Node.js JavaScript runtime environment, added enhanced HTML5 support, and released a beta version of the Software Developer Kit (SDK) which is now available now via the SDK Early Access Program.
This will let developers start creating apps for the webOS 2.0 operating system, which has been billed as being released "later this year."
We're stoked to see Palm's already magnificent OS still being developed, but for many users, it's the so-so hardware and paucity of decent apps that remain the stumble block to switching to Palm.