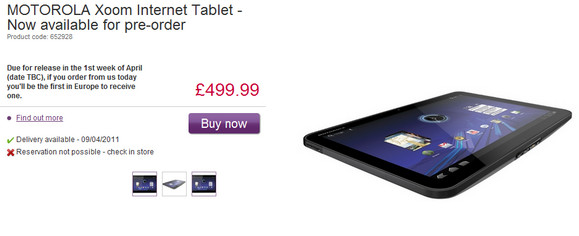 For one of the largest electrical retailers in the UK, you'd think that taking care of the simple things like putting the right price on new products would be pretty much second nature by now, but it seems that for the buffoons at PC World even that was too much.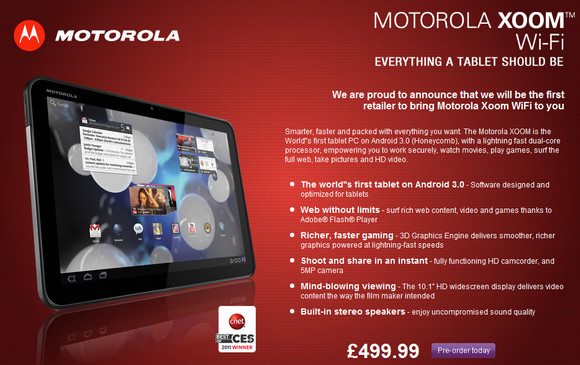 On Tuesday, the company launched a new pre-order page for Motorola's eagerly awaited new Android XOOM tablet, and invited users to pre-order the Wi-Fi-only tablet for £449.99. You can see a screengrab of the page here.
Sadly, it turned out that those crazy, easily-confused klutzes at PC World had dropped another clanger, and now the page has resurfaced with a distinctly pricier £499.99 price tag attached. That's inflation for ya'!
If the new, upwardly mobile price is still to your pleasing, PC World is promising a delivery date of the 9th April, 2011, but we wouldn't like to bet our gran on that one. Or yours, for that matter.
3G model coming some time or another too
PC World claim to have the European exclusive on the Wi-Fi XOOM, but if you fancy the snazzier 3G model, then Carphone Warehouse have set up a pre-order page of their own.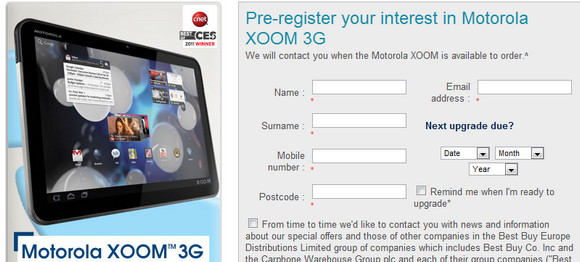 Wisely learning  from the mistakes of their rivals, Carphone Warehouse have declined to not sully their page with anything as coarse as an actual price.
There's no solid availability date either, with the page offering a rather vague "April 2011*" with the asterisk disappointingly being followed by the caption, "*Expected date is subject to change without notice."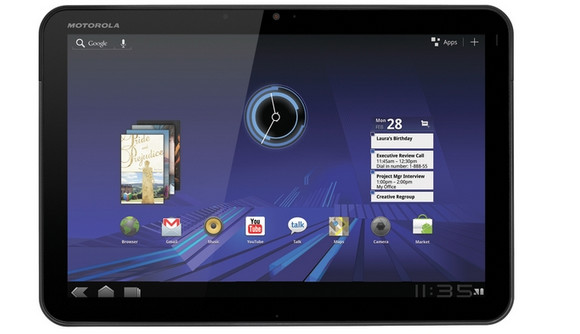 If the thing actually turns up on time, users should be able to enjoy a very well spec'd, Flash-enabled rival to the iPad 2, and it's certainly a tablet we're looking forward to having a play on.
Here's the specs:
Processor – NVIDIA Tegra 2 Dual Core Processor
– 1 GHz
– 1 MB L2 Cache
Operating System Android v3.0
RAM 1GB
Screen type Widescreen LCD
Screen resolution – WXGA
– 1280 x 800
Screen size 10.1″
Screen features Four-way screen rotation
Touchscreen
Hard drive – 32GB memory
Optical disk drive – None
Memory card reader – microSDHC
USB 1 x USB 2.0
FireWire  – No
Wi-Fi 802.11 b/g/n
Bluetooth – Class 2, v2.1 + EDR
Video interface-  1 x HDMI
TV output – HDMI digital video/audio output
Sound Stereo speakers
Webcam 5 MP rear camera, 2 MP forward camera
Battery Video playback up to 10 hours
Charge time up to 3.5 hours
Additional features E-compass, simultaneous GPS, Accelerometer, magnetometer, proximity sensor, ambient light sensor, gyroscope, barometer
Software included Adobe Flash Player
Size 249.1 x 167.8 x 12.9 mm (H x W x D)
Weight Approx. 730 g