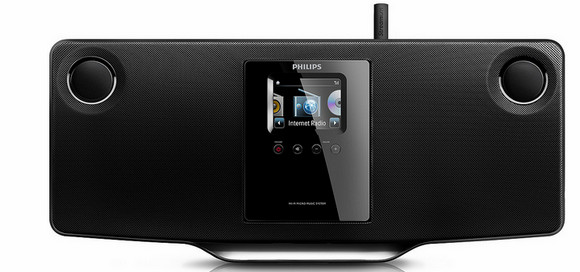 Looking rather dandy with its shiny black control panel and matt black speaker gauze is Philips' new Streamium wireless micro hi-fi system.
Measuring up at a mere 90mm thick – and thus ideal for wall mounting – the micro hi-fi system lets you wirelessly stream music from your PC/MAC computer or slap in a USB stuck to play back MP3/WMA tunes.
It plays CDs
The Streamium can also play back time honoured CDs of the MP3/WMA-CD, CD and CD-RW variety courtesy of a slot on top of the device, play back iTunes music and access thousands of free Internet Radio Stations. There's also a FM tuner on board.
Touch screen controls on the 3.5-inch display let you select your songs, adjust volume settings and fiddle about with the EQ, and there's a remote control lobbed in, so there's no need to get out of bed.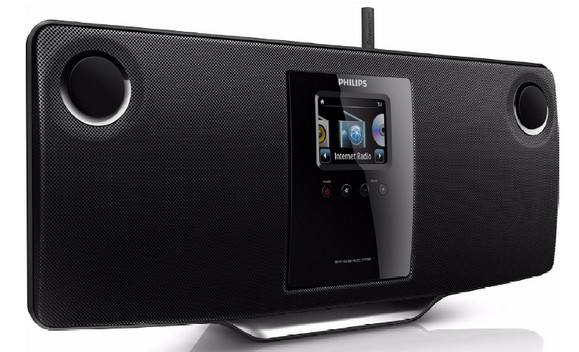 Drum'n'bass hardcore clubbers may want to look elsewhere as the Philips can only muster 2x10W RMS total output power – enough for a bedroom/kitchen/small living room, but not so good for a gabba hardcore party.
The Philips Streamium sMCi298 system looks rather good to our eyes, and can be bagged for around £200.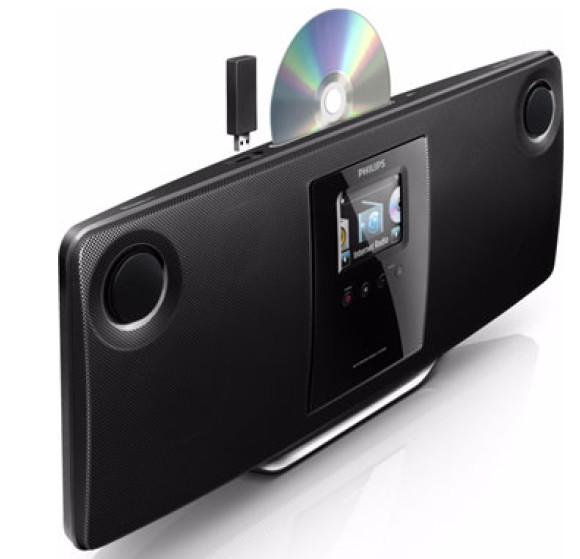 Specs
Audio Playback
•Compression format: MP3, WMA, non DRM AAC (m4A)
•Playback Media: CD, CD-R, CD-RW, MP3-CD, WMA-CD, USB flash drive
•Internet Radio
•Loader Type: Slot
•PC Link playback mode: MP3 streaming via network, Wi-Fi wireless connection
•USB Direct Modes: Play/Pause, Previous/Next, Stop
•Disc Playback Modes: Fast Forward/Backward, Next/Previous Track Search, Repeat Play
•ID3-tag support
•MP3 bit rates: 8-320 kbps and VBR
•WMA bit rates: up to 192kbps, CBR/VBR
Sound
•Equalizer settings: Neutral, Jazz, Pop, Rock
•Sound Enhancement: Class "D" Digital Amplifier, Dynamic Bass Boost, Equalizer, Treble and Bass Control
•Volume Control: Volume Control up/down
•Output power (RMS): 2x10W
Loudspeakers
•Main Speaker: Full range
Tuner/Reception/Transmission
•Auto digital tuning
•Tuner Bands: FM Stereo
Connectivity
•Other connections: Ethernet
•Headphone: 3.5 mm
•Wireless connections: Wireless LAN(802.11g), Wireless LAN(802.11b)
•Wireless Universal Plug & Play: Enabled
•LAN wired: Ethernet (RJ 45) 1x
•Encryption / security: WEP 128 bit, WEP 64 bit, WPA, WPA2, WPS-PBC, WPS-PIN
•Antenna: FM Dipole
•Audio Connections: 3.5mm stereo line in -MP3 link
•Power: 220-240V
Convenience
•Display Type: LCD
•Backlight
•Backlight color: White
•On-Screen Display languages: English, Dutch, French, German, Italian, Spanish, Portuguese, Swedish
•Eco Power Standby: 1 watt
•Headphone jack
•Clock: On main display, Internet time
•Alarms: Buzzer Alarm, Sleep timer
•Display Enhancements: Brightness Control, Touch screen control
•Indications: DIM mode
•Remote control: 1-Way
Accessories
•Included accessories: FM antenna
•Batteries: 2x AAA
•CD-ROM: CD-ROM with Media Browser, Video Tutorial and manuals
•Quick start guide: English, French, Spanish, Italian, Dutch, German, Swedish, Finnish, Norwegian, Danish, Portuguese, Russian, Polish
•Remote control: 1-way Remote
•User Manual: English, French, Spanish, Italian, Dutch, German, Swedish, Finnish, Norwegian, Danish, Portuguese, Russian, Polish
•Warranty Card: Warranty Card
•AC/DC Adaptor: AC/DC Adapter
Dimensions
•Product dimensions (WxDxH): 542 x 90 x 238 mm
•Set weight: 2.98 kg
Picture/Display
•Diagonal screen size (inch): 3.5 inch
Power
•Power supply: 200-240 V, 50Hz
[Philips]