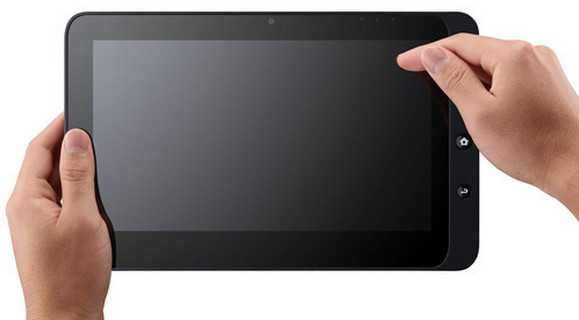 The tsunami of tablets continues, as another Android-powered challenger looks to take on Apple's iPad, this time a shiny 10″ number from Viewsonic, christened the ViewPad 100.
Dual booting… wha'?
This one stands out from the pack by virtue of its curious dual-booting arrangement.
In their infinite wisdom, Viewsonic have elected to produce a tablet that can either boot into Windows 7 or an elderly version of the Android OS, v1.6, which was released back in September '09 (and lacks  host of useful features seen in the latest Froyo 2.2 Android update).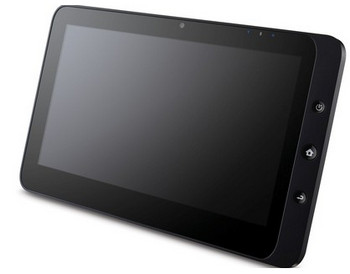 We're struggling to understand why anyone would want a dual-booting tablet, but perhaps there's a massive market out there that we haven't thought of.
Here's ViewSonic trying to spread the love:
The combination of operating systems means that users have the speed and portability of an Android-based OS without sacrificing the power and compatibility of a Windows powered system.

Users can quickly check their emails or browse the internet with Android while still being able to rely on the traditional PC experience that a full Windows environment provides, such as USB connectivity, video output via mini VGA, Adobe Flash support and the ability to create presentations and word documents from scratch.

The ViewPad 100 is aimed at those who want the speed and portability of Android without losing the advantages of having a Windows-based system.
Some specs
Anyway, back to the tablet, it sports a 10-inch screen (1024 x 600 resolution), runs on an Intel Atom N455 1.66Ghz processor with 1GB of DDR3 RAM memory and a 16GB SSD for storage.
Connectivity options are plentiful, with the ViewPad serving up Wi-Fi, Bluetooth, A-GPS and a G-sensor.
There's a handy two USB ports onboard, plus a miniVGA and microSD card slot (expandable up to 32GB), with a 1.3MP webcam for your video nattering needs.
Try as we might, this is one tablet we can't get worked up about. Give us the Samsung Galaxy Tab over this bewildering fella, if you please.
[Via]