If you're after some blank calendar templates in double-quick time, there's quite a few choices online, but our favourite is PDFCalendar.
The calendar creator site lets you create customised 1-page PDF calendars, in a host of different sizes from Letter (aka A size, 8.5″ x 11″), Legal (8.5″ x 14″), Tabloid (aka B size, 11″ x 17″), C size (17″ x 22″), D size (22″ x 34″), E size (34″ x 44″), and A0, A1, A2, A3, A4, A5, A6, and A7 formats.
Customise options
Calendars can be customised and a-tweaked, so you can select what day the week starts on, the number of weeks you display on one page, and whether to display ISO-8601 week numbers or not.
You can turn shading on and off (and select the colour), change font and label colours, add borders, select landscape/portrait orientation and optionally add a title to the calendar.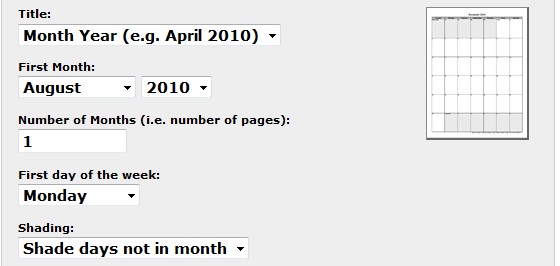 Download and print
Once you've picked the calendar that suits your demanding aesthetic tastes, it's simply a case of clicking, 'Download Calendar PDF' and – bosh! – you'll have a PDF ready for printing.
Slam it through the printer and you'll have your own calendar ready for you to start scribbling all over.
It's not the most exciting website you'll ever finish, and the calendars are hardly great things of artistic beauty, but – hey! –  they're quick to create, damn useful and free – and you can't ask for much more than that, can you?