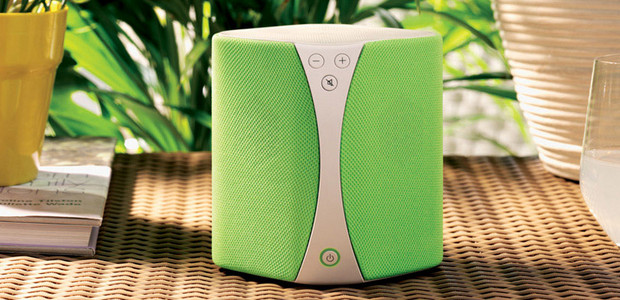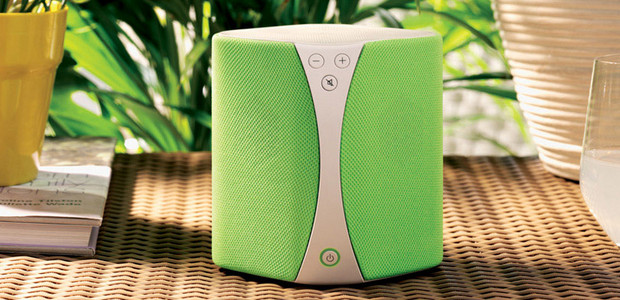 Trying to elbow itself some space in a wireless multiroom market dominated by Sonos, Pure is hoping that its latest Pure Jongo S3 portable speaker will shake some action.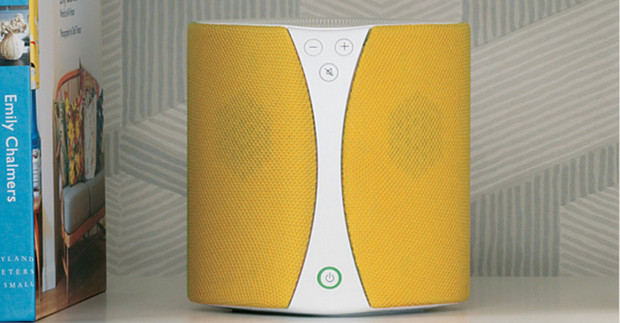 The first member of the Pure Jongo family to come out of the traps, the compact S3 is a colourful little chappy, available in plain white or black but with a selection of jauntily hued mesh grills.
Inside each unit lurks four 2.5W 19mm tweeters – one on each side of the cube – with a 10W 9cm upward-facing subwoofer providing the bottom end oomph.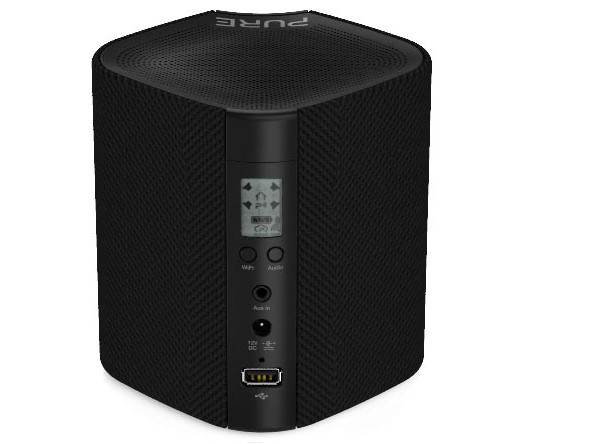 There's just volume, mute and power buttons on the  front-facing control panel, while around the back is a 3.5mm input, USB socket , a wi-fi button (used in the set-up process), and an audio button which lets you select one of four different audio profiles, namely:
Mono 360° – All 5 speakers – music will reach every corner.
Stereo 360° – Big stereo sound – it's like a live gig in your living room.
Stereo forward facing – For sitting back and enjoying the moment.
Outdoor boost – For partying in the park.
The speaker is also Bluetooth enabled, but only through the rather bodge-like addition of a dongle which plugs into the USB port.
There's also a power socket, with the built in 8,800mAh lithium-ion battery rechargeable battery able to keep on trucking for around 10 hours on a full charge.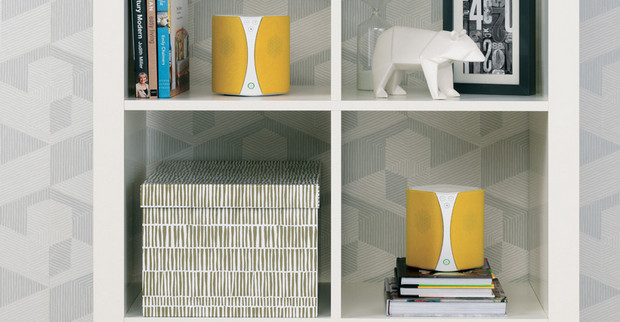 Having an onboard battery means that users can take the speakers around the house and into the garden, although the lack of weather sealing means a traditional summer downfall could spell doom for the party.
Although it can be used on its own, the Jongo S3 really comes into its own as part of a Pure Stream multiroom system, where it can be hooked up to any compatible Pure device over an 802.11bg wireless network.
Once paired up, music or radio content on one device can be played on multiple S3 speakers simultaneously, with the free Pure Connect iOS/Android app letting users stream content.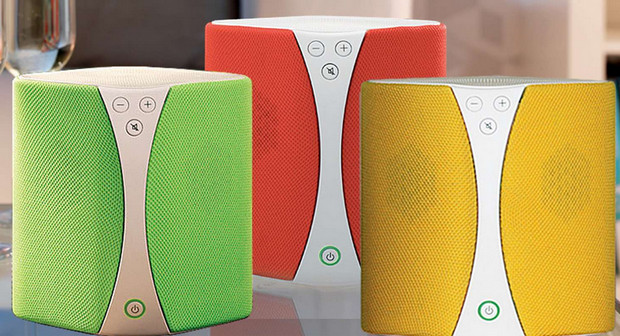 Petite but with a punch
We were impressed with the sound quality of the S3's, which proved surprisingly smooth, crisp and immersive for such a diminutive unit.
The bass is, of course, unlikely to cause a commotion in your underpants, but it still made a decent enough sound that was big enough to make you double check the dimensions of the wee thing.
Conclusion
Portable, versatile and capable, the Pure Jongo S3 represents excellent value for money, given it comes in substantially cheaper than its equivalent Sonos unit.
Ratings

 – Sound quality


 – Build


 – Features



 – Value for money


 – Overall
Buy the Jongo S3 on Amazon (currently around £169)
Pure Jongo S340B Wireless speaker with WiFi and Bluetooth – Black
Pure Jongo S3 Wireless speaker with WiFi and Bluetooth – White
Specs:
Model Jongo S340B

Wireless 802.11b and 802.11g supported with WEP and WPA/WPA2. A2DP Bluetooth support via supplied USB dongle.

Codec support Includes WMA (Standard V9), AAC, MP3, MP2

Speakers 4 x Mylar ¾" high frequency drivers, 1 x Neodymium motor upward firing mid/bass driver 3.5″

Audio power output 4 x 2.5W + 10W RMS

Input connectors 9VDC power adapter socket (110-230V supplied), ChargePAK connector, 3.5mm Line-in for auxiliary devices. USB A for product upgrades and Bluetooth (dongle supplied) and Ethernet connectivity

Controls Power, Vol+, Vol-, Mute, Audio mode, Wi-Fi setup, Reset

Display 1″ LCD Display

Mains Power Supply 110-230V AC to 9V DC external power adapter (supplied)

Battery power ChargePAK F1 (supplied)

Warranty Comprehensive two year warranty for Jongo S3. One year warranty for ChargePAK.

Dimensions w 131mm x d 139mm x h 135mm

Weight 1.25kg with ChargePAK, 1.0kg without ChargePAK

Approvals European CE, US FCC/ETL, Australian C-Tick. Wi-Fi Alliance and ESTI EN 300 401 compliant.