Seemingly created from a design brief that went along the lines of, "make a radio and shove every new technology you can find at it… and then make it look like it's escaped from the set of 2001," Pure's sensational new Sensia radio packs a large touchscreen, Wi-Fi radio and a whole lot more besides.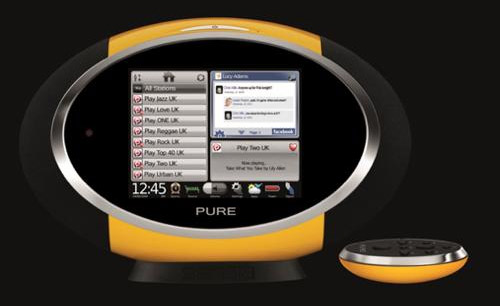 Packed in a, err, retro-futuristic curved case, the Sensia is a DAB, FM and streaming Wi-Fi radio, with two internal 3″ drive units delivering 15 RMS per channel (30W RMS total).
Billed as "the radio for the Facebook generation," the Sensia is dominated by a large 5.7" 640 x 480 capacitive TFT touchscreen display which serves as a gateway to all sorts of Wi-Fi radio goodness.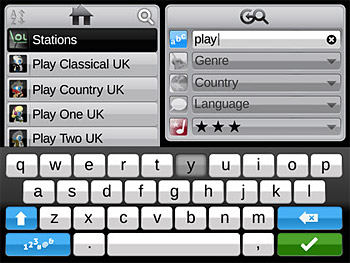 Once hooked up to a Wi-Fi network, users can access over 12,000 internet radio stations, podcasts or stream tunes from any computer or network storage device connected to the network.
There's also the option to break out the joss sticks and get down to some 'PURE Sounds.' These are, apparently, "unique soundscapes created by PURE to stimulate, inspire and relax."
The sound that gets people most stimulated in the Wirefresh office is the sound of a beer can being opened, but we're thinking we won't find that in the Pure audio catalogue.
Twitter as you groove
The Sensia also packs Twitter support, although you can only read your friends' latest inane wafflings and not update your status yourself ("I'm listening to the radio").
Pure describe the Sensia as a 'showcase' for their technology," with Facebook and Picasa browsers promised before launch, and there's also talk of an integrated MP3 store and an app store in the future.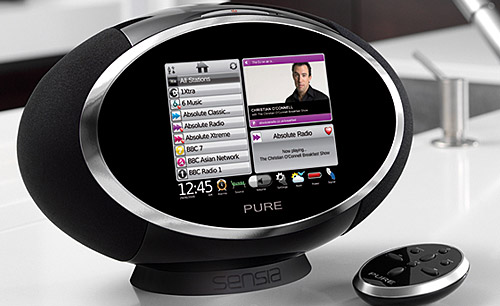 All that technological goodness doesn't come cheap though, with the Sensia pummelling your wallet to the tune of £250, with an extra £35 buying you an optional battery pack.
We've always been impressed with the Pure products we've reviewed in the past, so we're hoping to get our grubby mitts on the Sensia soon and give you our verdict.
Find out more here: Touchmyradio.com
Specifications
DAB & FM: Stereo digital radio with full Band III, and FM reception. ETSI EN 300 401 compliant and capable of decoding all DAB transmission modes 1-4 up to and including 192 kbps. Supports FM RDS and RadioText. Future upgrade supported for DAB+.
Wireless: 802.11b and 802.11g supported with WEP and WPA/WPA2 encryption.
Frequency ranges: Band III 174-240 MHz and FM 87.5-108 MHz.
Media Streaming: Audio codecs supported include WMA (Standard V9), WAV, AAC, MP3, MP2, Real Audio (cook). Media streaming requires UPnP server or PC/MAC running UPnP server software (supplied upon registration to www.thelounge.com)
Speakers: Two full-range 3″ drive units
Audio power output: 15 RMS per channel; 30W RMS total
Input connectors: 14.3V DC power adaptor socket (230/110V supplied). ChargePAK connector. 3.5mm Line-in for auxiliary devices. USB (mini-B type) for product upgrades.
Output connectors: 3.5mm headphone socket
Controls: 5.7″ touchscreen display, standby button
Remote: Sensia RF remote control
Presets: 30 DAB, 10 FM and unlimited internet radio favourites (maximum of 10 until user registration at www.thelounge.com)
Display: 5.7" Capacitive sensing, 64k colour, 640 x 480 TFT display.
Mains power supply: 230/110V AC to 14.3V DC external power adapter.
ChargePAK: Optional in-unit rechargeable battery pack. Takes ChargePAK E1 for up to 10 hours of portable listening.
Approvals: CE marked. Compliant with the EMC and Low Voltage Directives (2004/108/EC and 2006/95/EC).
Dimensions (mm): 166 high x 280 wide x 180 deep (stand dimensions not included)
Weight: 1.9Kg (excludes ChargePAK E1)
Aerial: Captive telescopic aerial, internal Wi-Fi aerial
Warranty: Comprehensive two year warranty.