A long time favourite with the Wirefresh crew, ACDSee's Windows photo manager has always impressed us with its ability to take a manly grip on large, unruly digital photo collections and slap them into nice ordered piles.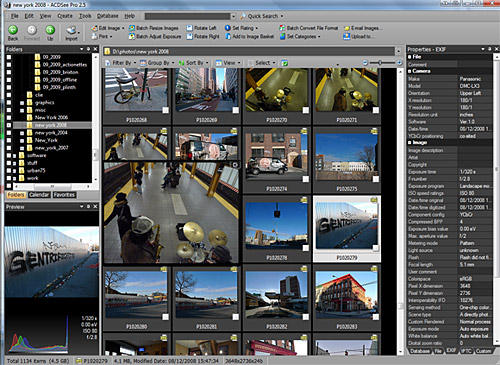 Now available in an upmarket 'pro' flavour for serious snappers, ACDSee Pro 2.5 aims to be a 'one stop' package for photographers, offering the ability to view, process, edit, organise, tag, catalogue, burn, publish, and archive images.
Looking suitably mean, moody and business-like with its grey and black workspace, ACDSee opens up a Windows Explorer-like user interface, with folders on the top left, a photo preview at the bottom left, thumbnails in the middle, and properties on the right.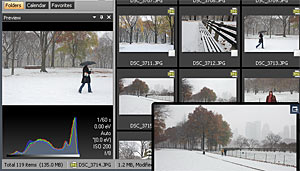 Thumbnail sizes can be instantly increased or decreased via '+/-' buttons and a histogram display provides exposure information.
Pausing your mouse over a thumbnail provides a handy pop-up preview, while individual images can be dragged from multiple folders into an 'image basket' for editing and archiving.
As with previous versions, the interface is fully user customisable, so it's easy to get ACDSee looking the way you prefer.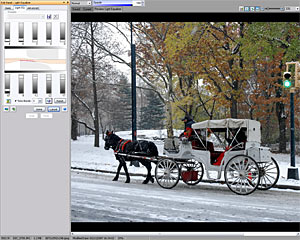 Feast o'file formats
Offering fast thumbnail browsing, ACDSee can handle more than 100 different file formats (including JPEG, BMP, GIF, PSD, PNG, TIFF, TGA, RAW, NEF, and CRW), with plenty of support for RAW files from a wide range of dSLRs and upmarket digcams.
The program can also manage a host of video and audio formats including QuickTime MOV, MPG, MP3, WAV, WMV, VFW and AVI.
Photos can be automatically imported from a range of sources, including the user's hard drive, scanner, camera, card reader and mobile phone folder.
You can also use the program to directly browse files in folders on your computer without the need to import them first (some photo management programs annoyingly force you to import everything before you can view them, but ACDSee can work like a supercharged Windows file explorer).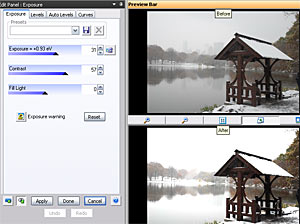 Image editing
Although fully featured, we found the image editor the weakest part of the software suite, with a rather clunky interface detracting from the program's overall highly polished feel.
We may not have found it the most intuitive editor around, but there's certainly no shortage of image editing options on board, including sharpness, saturation, colour and contrast controls, plus tools to fix common photo defects like blemishes, red-eye, lens correction and image noise.
ACDSee Pro 2.5's patent pending Shadow/Highlights feature seemed pretty effective too, although Photoshop devotees may prefer to stay within familiar territory for complex image edits.
We loved the powerful batch editing tools, which included batch processing, image renaming, file format conversion, timestamp, resize and rotate.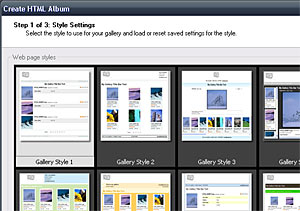 Organising
We've always found ACDSee's image organising tools pleasantly straightforward to use, and images can be individually or collectively assigned categories, keywords and ratings, with support for IPTC/EXIF/XMP metadata.
With images able to be grouped by author, camera, image size, file name, file size or one or more keywords, user-applied rating, categories and tagged/untagged options, you should have no problem dredging up files from the four corners of your hard drive.
Photos can be optimised for sharing by e-mail, displayed in web galleries (with templated contact sheets) or slide shows with CD/DVD archiving.
Starting up
Loading up ACDSee Pro for the first time automatically sent the program scurrying through our extensive photo library (some 60,000+ photos) – we didn't time how long the operation took (we went off for a cuppa) but it seemed nippy enough considering the amount of files on our hard disc.
Once indexed, ACDSee was able to speed through photos when viewed full screen, with barely a delay, even when previewing large 15meg RAW files.
The image editing tools were fairly quick in use, but you'll definitely need a reasonably powerful computer if you intend to use ACDSee as your prime editing software – things might begin to creak a bit on Ye Olde machines.
ACDSee recommend an Intel Pentium III/AMD Athlon XP upwards with 512 MB RAM (1 GB RAM recommended), plus 100 MB free hard drive space (1 GB recommended). We'd strongly suggest that if you wish to make use of the RAW image editing facilities, you'll need to strap on at least a gig of RAM.
Conclusion
Offering far more than just a basic photo organiser, ACDSee Pro2.5 is a great all-round tool for cataloging and archiving growing photo collections, with its polished, advanced search tools making it easy to keep track of images.
At £70, it's not the cheapest photo manager around, but its ease of use, attractive interface and powerful set of tools make it our first choice. Recommended.
Our rating:
Features: 85%
Ease of use: 87%
Value For Money: 75%
Overall: 90%
ACDSee