For car drivers looking to roam the land with their trusty iPhone & iPod Touch at their side, Griffin Technology's WindowSeat mount looks a pocket-friendly way to keep the trusty gadget in their line of vision.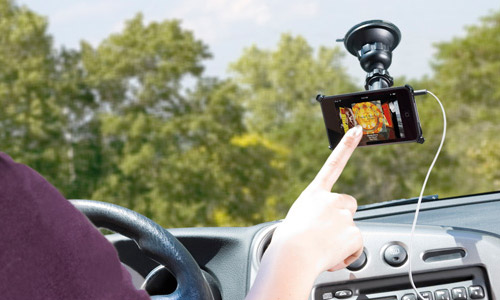 Designed to mount Apple iPhone or 2nd generation iPod Touch units at eye level, WindowSeat's budget priced mounting bracket grip offers angle adjustment and an easy detach facility.

Inside the package
The WindowSeat package includes backs for the iPhone, iTouch 2g and the iPhone 3G, and a smooth disc with a strong double sided sticky pad and an alcohol swab to let you attach it to non-window surfaces.
The sucker forms a very strong grip, helped by a twist grip that pulls out the centre of the sucker. This makes it near impossible to get off, leaving your precious device safe if you decide to rough it up off-road or go for a spin along some Mexican B roads.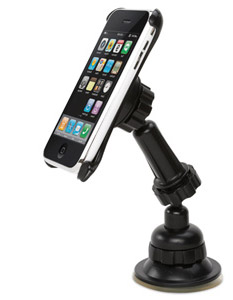 Thoughtfully, they've also included an extra joint that extends the length of the unit for larger vehicles (like our trusty camper van) and there's a 3.5mm to 3.5mm jack for hooking your unit up to external speakers.
Each joint is a ball joint with locking nuts, so once you've got it in position, you can tighten everything up and it should stay like that for some time.
The iPhone clicks very reassuringly into place and is easily positioned in landscape and portrait. It's reasonably easy to remove too, with tabs at the corners to assist, although this can only be done easily with two hands – so don't try it when you're hurtling along in the fast lane!
Unlike the pricier but rather slicker TomTom holder (which comes with a built in Apple connector), you're going to have to put up with a fair bit of cabling flapping about if you're hooking up to a stereo and a charger – but seeing as the Windowseat can be bagged for just £19.99 from the Carphone Warehouse, it seems a small sacrifice to pay for such a solid screen mount.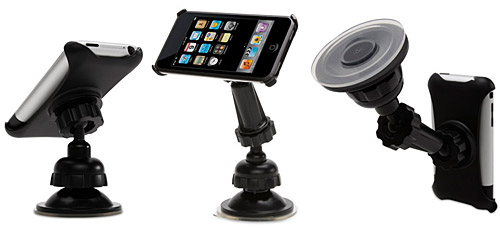 Even better, if you combine the Windshield Mount with the budget priced iPhone CoPilot SatNav software (£26), you've got yourself a decent car satnav set up for the less than the price of the TomTom software alone – and that looks like a bargain to us.
Review by Alex Sunray