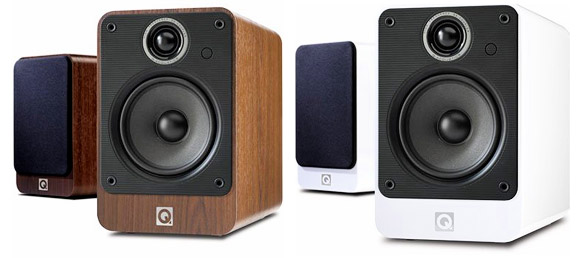 There's no shortage of highly capable speakers around the £150 – £200 mark, but you're unlikely to find any better than the Q Acoustics 2020i bookshelf speakers.

The latest recruits to the upgraded 'i' range, the speakers put together a new 25mm tweeter, upgraded carbon fibre and ceramic-coated cones for the mid/bass driver, and clever new crossovers to produce a sound that has won plaudits and awards galore.
Suitable for both hi-fi music and home cinema use, the  Q Acoustics 2020i's knock out a detailed, crisp and big sound that belie their modest (175 x 250 x 265mm) dimensions. The bass isn't  'alf bad either.
Equally happy blasting out sonnets, symphonies and Swervedriver, these stand or wall mounted speakers represent fantastic value and should be at the top of the list for upgraders or folks building a home sound system on a budget.
You can pick up the Q Acoustics 2020i speakers from Amazon for around £160. We think they're a bargain.
Specifications (each)
Enclosure type:    2-way reflex
Bass Unit:    125mm
Treble Unit:    25mm
Frequency Response:    64Hz – 22kHz
Nominal Impedance:    6ohm
Minimum Impedance:    4ohm
Sensitivity:    88dB
Recommended Power:    25 – 75w
Crossover Frequency:    2.9kHz
Dimensions H/D/W mm:    264.5 x 278 x 170
Weight:    5.0kg