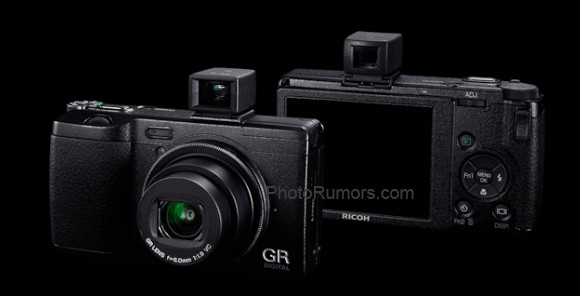 For sharp-shooting street photographers who need a fast, small, discrete camera with full manual control, the Ricoh GRD has long been one of our recommendations, and Ricoh are expected to officially announce the latest update to the long-running range today.
The lines of the GRD range have barely changed since the first model was introduced in 2005 (and before that, the GR1 film camera), and the new Ricoh GRD IV continues the no-nonsense tradition, being barely distinguishable from the first version.

[Crowd scene from Offline Club, Brixton, Sept 2011, shot on an original GRD camera from 2005]
Stabilisation onboard
The camera may look the same, but inside the understated plain, matte-black camera case there's been quite a few improvements, most noticeably the long-overdue introduction of sensor shift-type image stabilisation and a built in ND filter.
Ricoh has also added a  new processing engine to accompany the  10MP 1/1.7-in. CCD sensor, with the fixed 28mm lens remaining a snappy f1.9 number, while the camera's video capabilities remain fairly woeful at just  640×480, 320×240 (AVI).
[Offline Club, Sept 2011, Ricoh GRD]
Not for feature fans, but still a fab snapper
Each release of  a new GRD model inevitably brings forth disappointed cries from punters demanding to know where all the whizzy features are: after all, this is camera with no zoom, no hand-holding scene modes,  no HD video and – let's be frank – it's not exactly a looker either.
But those people are missing the point – this is a camera made for enthusiasts/pro photographers who need a tough, fast, discrete and reliable snapper that easily slips in the pocket.
The Ricoh's interface remains one of the best we've ever used, and if we weren't so welded to our Lumix LX5 (or suddenly found ourselves with spare cash), we'd certainly consider the GRD as they really are lovely cameras.
Here's a run down of the main features, as posted on the photorumors site:
10MP 1/1.7-in. CCD sensor
3in CLD display with 1.2 million dots
ND filter
Lens construction: 8 elements in 6 groups
Lens: 28mm equivalent
Aperture: f/1.9 – f/9
Shutter speed: 180 – 1/2000 sec.
Image sensor shift-type image stabilization function
1.5 fps
Movie modes: 640×480, 320×240 (AVI)
We'll add more info and pics – and get the all important price – when the Ricoh camera gets its official launch – and hopefully we'll get our hands on a review model soon too.