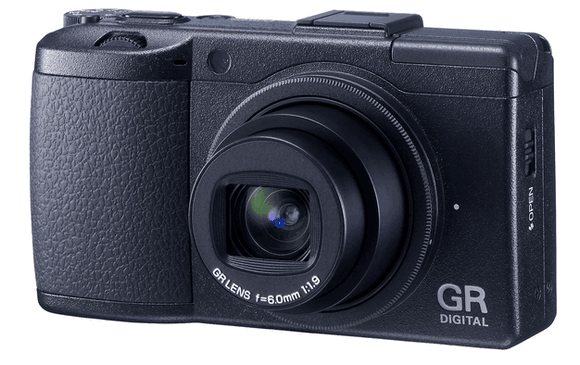 With the bijou street snapper serving up a raft of SLR-like controls in a pocket size package, we've always been big fans of Ricoh's enthusiast focussed GRD series, and we were lucky enough to get our hands on the current model, the Ricoh GRD III.
Three versions over six years
When it was first released back in September 2005, the GRD was something of a revelation, but since then the competition has hugely heated up, with dSLR prices plummeting and the rise of hugely capable, prosumer rival snappers like the Lumix LX5/GF-2, Olympus XZ-1 and Canon G12/S95 all conspiring to offer high end features in a small form factor.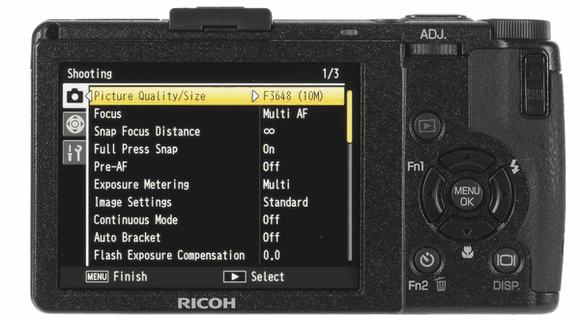 Meet the new look, same as the old look
Aware that street shooters like to attract as little attention as possible, the new Ricoh GR Digital III retains the same no-nonsense, matt black looks of its predecessors, with no glitzy chrome flashes, shiny logos or extraneous bling to catch the eye.
In fact, to the untrained eye, the Ricoh looks like a bit of a cheapo camera, and that's usually just fine with photographers: having what appears to be a crappy camera can be a distinct advantage in some circumstances, with the Ricoh's near anonymous looks being about as unintimidating as you can get.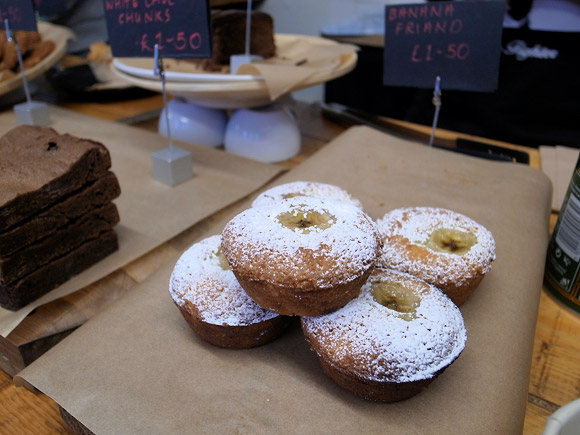 [Federation Coffee, Brixton, Aperture Priority mode, JPG, ISO84, 1/32s, f1.9, -0.0EV]
Lens gets a snort of speed
Although the design has barely changed over the years, there's been some fairly major overall changes within, with the GRDIII sporting a new, faster 28mm fixed focal length lens with an enticingly bright maximum aperture of f/1.9.
Lurking inside the camera is the new GR ENGINE III image processor which promises to deliver enhanced image quality and speed, while around the back, the LCD screen has been boosted to a high-resolution 3 inch number supporting 920,000 dots.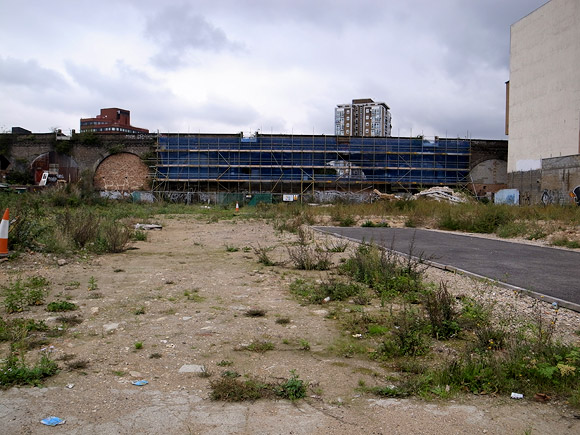 [Brixton, London, Auto, JPG, ISO64, 1/5702s, f2.5, -0.0EV]
The all-important sensor is a new "high-sensitivity" 1/1.75-inch CCD number, capturing 10 megapixels resolution, while Ricoh have added a new DR shooting mode to let users snap two photos at different exposures and merge them together create a single image with expanded dynamic range.
Built like an outhouse
Built from tough aluminium alloy, the GR Digital III could take several lesser cameras around the back of the bike sheds and give them a good duffing up, with a large rubberised handgrip and matching thumb rest on the rear making it very easy to grip – and keep hold of.
Further proof of its high end construction can be seen in the all-metal, central tripod mount underneath – many lesser cameras come with rubbish corner mounted plastic jobs.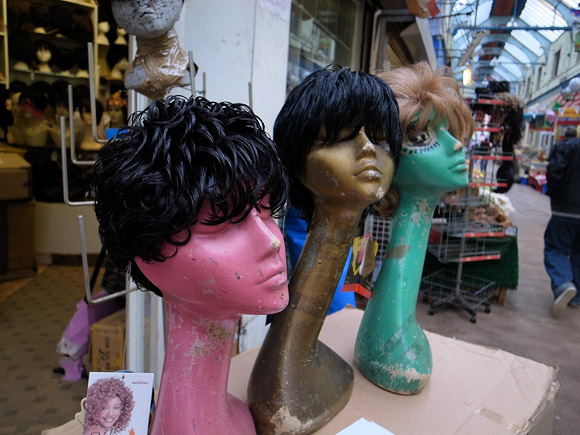 [Brixton Market, London, Aperture Priority mode, JPG, ISO64, 1/682s, f1.9, -0.4EV]
Customisable controls ahoy
Easily one of the most customisable compact cameras that we've ever used, the GR Digital III offers a huge range of advanced exposure, focusing and metering modes, accessible via a Mode dial, grip-mounted up-down dial, shutter release and Adj. dial at the back.
The mode dial lets swish between full auto, program shift, aperture-priority, shutter-priority mode and full manual modes (plus three user-customisable settings), with the up-down dial and Adj. button letting you adjust exposure parameters swiftly.
Pressing the Adj. dial brings up a useful menu that lets you quickly adjust 5 different settings. By default, these are set to Exposure Compensation, White Balance, ISO Speed, Image quality and the AF Target, but the menu is customisable, so you can choose the settings you need to access quickly. It's a neat system that works well.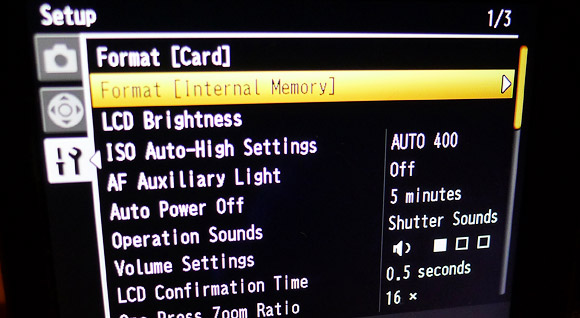 LCD screen
The 3″ 920k dot LCD is also delightfully bright and crisp and a vast improvement on the first model, and there's also the option to buy a removable optical viewfinder which slots into the hotshoe for old-school optical framing.
Unfortunately, there's no exposure information visible in the optical viewfinder – if you want some of that action you're going to have to shell out for Fujifilm's stunning – but mouthwateringly expensive – Finepix x100 camera.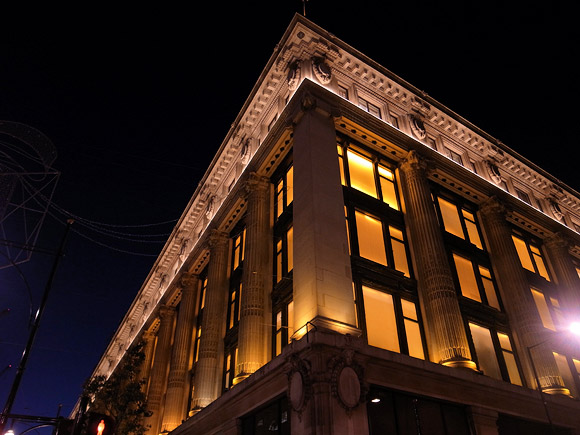 [Oxford Street, London, Auto, JPG, ISO 154, 1/36s, f1.9, -1.1EV]
Metering and auto focus
In line with its high end credentials, the camera comes with a 256 segment multi metering mode as well as centre weighted average metering and spot metering.
The multi AF system has 9 separate auto focus points, backed by Pre-AF, Spot AF, Manual focus, Infinity and a handy Snap mode which can be changed to focus at either 1m, 2.5m, 5m or Infinity.
A new Full Press Snap option takes a photo at one of the Snap mode distances with a full press of the shutter button, letting users instantly override the camera's AF and firing off a picture at a pre-determined distance.
Overall, focusing was fast and accurate, although we did find that in some low light conditions, the GRD III would fail to focus in a timely manner, so we ended up with some out of focus nightclub shots – curiously, the kind of shots that the original GRD normally has no problem with,.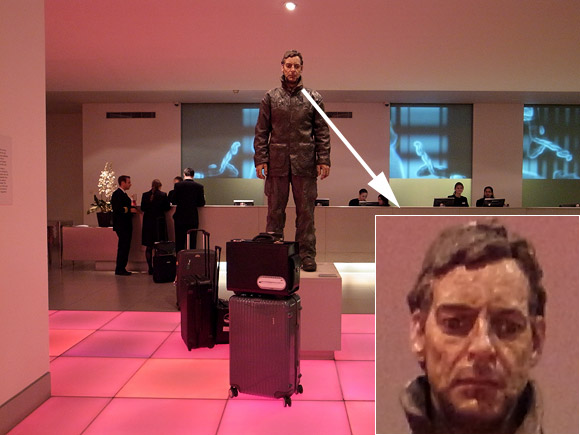 [Detail, Cumberland Hotel, London, Auto, JPG, ISO400, 1/32s, f1.9, -0.4EV]
Leg-powered zoom
Anyone with a penchant for mega zooms that start with a dramatically wide landscape and then zoom in to fill the frame with a passing bumbleebee from 200 yards away is going to be disappointed: the GR Digital III comes with a fixed 28mm wide angle lens.
This means that the only way you're going to capture distant objects is to employ your legs and walk closer.
In a strange way, we've always found this slightly liberating, and that's why we find ourselves still using the GRD we bought back in 2005, although the faster f1.9 lens on the GRD III almost tempts us to upgrade.
If the 28mm lens isn't wide enough for you, there's an optional 21mm lens which fits on via an adapter at the expense of a fair bit of bulk to the camera.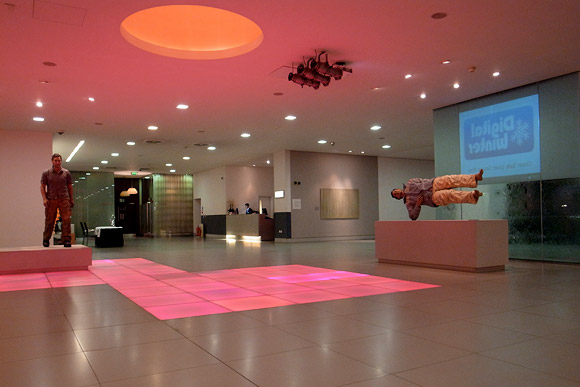 [Cumberland Hotel, London, Auto, JPG, ISO 383, 1/36s, f1.9, -1.1EV]
Shooting
A new multi-pattern auto white balance has been included for capturing scenes with mixed lighting, and the adjustable flash output (12 levels from full flash to 1/64) should make it easier for photographers trying to capture the right balance of natural light and flash.
A neat feature when composing shots is the electronic leveller which visually or audibly alerts you when the camera is perfectly level or horizontal, while a Depth of Field indicator indicates the depth-of-field at the current aperture.
No stabilisation cause irritation
One big omission – and one that frankly still annoys us, is the lack of image stabilisation.
Yes, the Ricoh already has a fast f1.9 lens, but low light photographers would really appreciate the longer handheld exposures that a good stabilisation system can offer, and at this price we'd really expect to see one.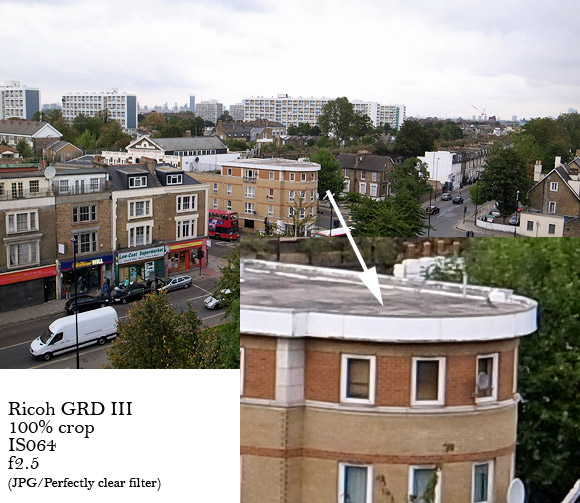 [Brixton scene]
Fast shooting
The Ricoh GRD range has a well earned reputation for being responsive cameras and their latest version proved to another nimble number, being ready to shoot in about a second with fast focussing in good light
The GR Digital III can also shoot up to 5 RAW images at 1.5fps, although you'll be twidding your thumbs for ten seconds or so after while the camera writes to memory.
The camera can save images as Fine and Normal JPEGs, and, usefully in Adobe's RAW DNG format and overall the GR Digital III was very quick in terms of operational speed when shooting JPEGs, and much improved for RAW files.
We were pleased with the quality of the images captured, although noise started to creep in at ISO 400 and worsened considerably at the higher ISO 800 and 1600 settings.
The new Dynamic Range mode proved a useful addition for capturing images with a greater dynamic range, and handled chromatic aberrations very well, with scurrilous purple fringing effects only appearing only in high contrast shots.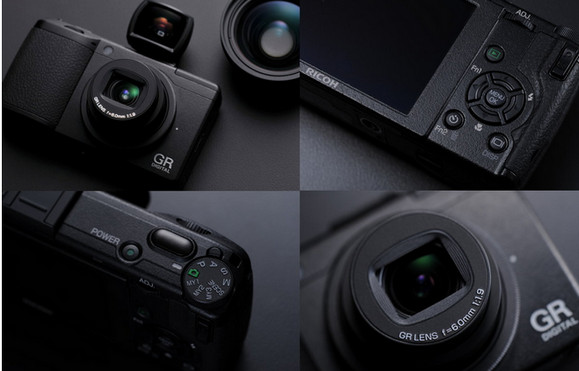 Conclusion
A hugely configurable and powerful compact camera, the GRDIII is a great companion for demanding photographers, with its rich and flexible feature set ensuring total control over shooting.
With all that power on tap, it perhaps takes a little longer to get used to the controls, but thankfully Ricoh include a comprehensive and well written 200 page manual in the box, which is far more useful than the PDF tosh that usually gets lobbed in the box.
Overall, we found an awful lot to like about the Ricoh GR Digital III, with the camera delivering full hands on control, superb handling, fast operation, superb excellent image quality and a mass of customisation options ensuring that the camera can be set up to exactly how you like.
The only fly in the ointment is the hefty price tag: at £469.99, it's swimming in highly competitive seas, with very capable and perhaps more flexible rivals widely available.
Better than the Lumix LX5?
If we could afford it, we'd have a GRD III camera to supplement our LX5, but if we could only have the one, then we'll be sticking with the more versatile Lumix by virtue of its wide angle zoom, higher quality video recording, excellent low light performance and generally faster focus.
Ricoh GRD III Ratings:

– Build


– Design


– Features


– Value for money


– Overall
[Buy the Ricoh GR Digital III on Amazon]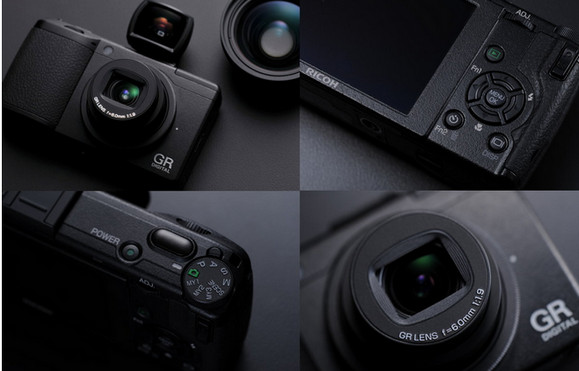 Pros
Perfectly pocketable size – this a true carry-everywhere camera that can take the knocks.
Decent high ISO performance (although not as good as the LX5)
Fast operation with handy snap mode and fast f1.9 lens
Large crisp LCD screen
Auto leveller handy for ensuring level horizons.
Full manual controls and a superbly intuitive control system
Built in lens cover
Very good battery life
Cons
Average video performance
Fixed 28mm lens (some may prefer a wider lens, others may want 35mm)
Lack of image stabilasation – sorely missed when using the GRD in very low light
Modest dynamic range
Some out of camera pics needed a bit of a boost
Price. Much as we love this camera, unless you absolutely crave a small fixed lens camera, it's very hard to justify its cost against newer, more versatile rivals