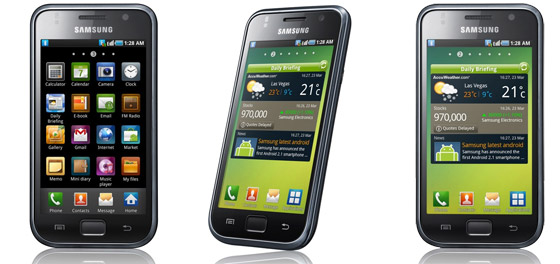 Samsung has battled its way to become the number one Android smartphone provider in the US for the last quarter (Q3 2010).
The figures come from stats bods Gartner who found that the fellas who knock out the Galaxy S range of handsets had managed to grab nearly a third of all US sales (32.1-per cent, to be precise).
This represents a huge leap over the year; back in Q4 2009, Samsung could only muster 9.2 per cent of all US android sales.
A suitably cheery press release has been issued where Dale Sohn, president of Samsung Mobile, recklessly commits to thanking every single Samsung customer, and also adds that, "the Galaxy S portfolio will be upgraded to the Android 2.2 (Froyo) operating system in the near future."
Sadly, there's no actual date mentioned but at least there's light at the end of the (long) tunnel.
Here's the full press release:
SAMSUNG MOBILE NAMED #1 ANDROID SMARTPHONE PROVIDER BASED ON RETAIL SALES IN U.S. & GALAXY S PORTFOLIO REACHES THREE MILLION SHIPMENTS MILESTONE

Independent research from leading industry analyst firm shows Samsung captured
top spot in U.S. Android smartphone market in third quarter of 2010

DALLAS, December 3, 2010 — Samsung Telecommunications America (Samsung Mobile)1, the No. 1 mobile phone provider in the U.S., today announced that third party research firm Gartner® reported Samsung as the top Android smartphone provider in terms of sell through to end users in the United States for the third quarter of 20102. According to Gartner, Samsung Mobile captured 32.1 percent of the U.S. Android smartphone market in Q3 2010 based on retail sales, an increase from 9.2 percent of the Android smartphone market in Q4 2009.

Samsung Mobile attributes much of the success to its Galaxy S portfolio of premium smartphones, which recently passed the three million shipment milestone in the U.S. Galaxy S smartphones are currently available with AT&T, Sprint and T-Mobile and Verizon Wireless, along with U.S. Cellular and Cellular South.

"I want to personally thank everyone who selected a Galaxy S smartphone as their mobile handset of choice. Neither of these wonderful accomplishments would have been possible without the loyalty and support of our customers," said Dale Sohn, president of Samsung Mobile. "The Galaxy S portfolio has played a significant role in Samsung's success in 2010 and we are extremely excited to show you what products, services and innovations we have in store for the U.S. market in 2011."

The Samsung Galaxy S portfolio is packed with premium features and services, including a brilliant 4-inch Super AMOLED display screen, 1GHz Hummingbird Application Processor, Samsung's Media Hub premium movie and TV programming download service and a full array of entertainment, messaging and social networking capabilities. The Galaxy S portfolio will be upgraded to the Android 2.2 (Froyo) operating system in the near future.

For additional information on the Samsung Galaxy S portfolio, please visit www.samsung.com/galaxys.

1 Number one mobile phone provider in the U.S claim for Samsung Mobile based upon reported shipment data, according to Strategy Analytics, Q3 2010 U.S. Market Share Handset Shipments Reports.
2 Number one Android smartphone provider in the U.S. claim for Samsung Mobile based upon reported sales data according to Gartner Inc. Competitive Landscape: Mobile Devices, Worldwide, 3Q10 Report (published November 9, 2010 by authors Roberta Cozza, Carolina Milanesi, Anshul Gupta, Hugues J. De La Vergne, Annette Zimmermann, CK Lu, Atsuro Sato and Tuong Huy Nguyen)

)