What do you get when you cross one of our fave Android transport apps – Cycle Hire Widget – with Sony Ericsson's intriguing second screen gadget, the LiveView?
By the looks of it, a nifty and fast way to find and park bikes on the London Barclays Cycle Hire scheme. Huzzah!
With the cycle hire scheme now opening up to casual users, developers Little Fluffy Toys Ltd have prised themselves away from their computer screens to bring you what they proclaim to be "an innovative breakthrough in cycling safety and convenience."
Their original app let you swiftly locate nearby bikes and free docking slots via a widget on your Android's homescreen, with three arrows pointing you in the direction of pedal powered nirvana, along with indicators for distance, direction and availability.
Now with second screen power
With their shiny new Sony Ericsson LiveView-powered app, things should be even easier for cyclists with all the relevant info being displayed on the wristwatch screen – thus sparing cyclists the palaver of stopping their bikes, getting out their phones and navigating to the widget display.
See it in action below with this lo-fi, DIY "who's in charge of the focussing" video:
Quick access in parky conditions
With London currently enjoying the kind of weather that gets Brass Monkeys a-jiggy, being able to see the info at a glance will surely be a more attractive proposition to f-f-f-freezing cyclists than having to take off gloves and rummage around in layers of clothing.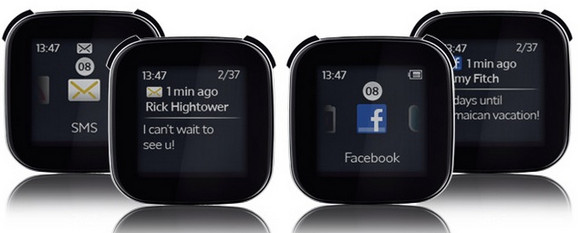 Works with any Android device
In case you've not seen it yet, LiveView is a small second screen that works with any Android 2.x phone (not just Sony Ericsson). It can be worn around your wrist or clipped to your clothing.
The Cycle Hire Widget on the LiveView communicates wirelessly over Bluetooth with the phone safely nestling in your pocket and displaying the status of the nearest three docking stations on its wristwatch display – all without touching your phone.
"We are delighted to be able to solve the problem of quickly and safely finding a docking station whilst riding your Boris Bike out on the roads," enthused Kenton Price, Chief Architect of Little Fluffy Toys Ltd.
Unstoppable, he continued:
"Both myself and our Chief Technical Officer Reuben Harris are avid users of the Barclays Cycle Hire scheme, and whilst we know first-hand as well as from customers the tremendous value that Cycle Hire Widget brings to Android users, one of the sticking points for us was when we came to drop off a bike, having to pull over onto the pavement in order to find the docking station and whether it has any slots available. Now that Cycle Hire Widget supports the Sony Ericsson LiveView, this one-click solution makes finding a docking station safer and more convenient than getting your phone out of your pocket.

"The LiveView is the first of a new class of second-screen device to complement your mobile phone. Sitting on a bus yesterday and wearing the LiveView as a watch, I felt it vibrate to indicate Facebook and Twitter notifications and incoming emails, and it felt like a fledgling tug from the future. These second-screen devices are going to become smaller, cheaper and more powerful, and we are delighted to be there at the start."
The LiveView Plugin for Cycle Hire Widget will be released to Android Market tonight, and works with the free Cycle Hire Widget Lite as well as the fully-featured Cycle Hire Widget Pro.
The Cycle Hire Widget Pro can be yours all yours for just 99p until 8th December while LiveView can be bought from Play.com for £49.99