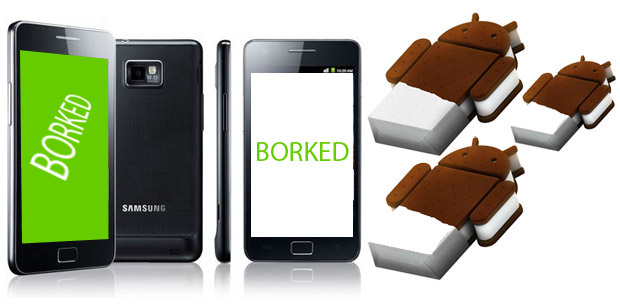 Well, that'll teach us. No sooner had we enthusiastically posted up our ICS upgrade guide for the Samsung Galaxy SII phone than all the wheels came falling off the wagon.
Reboots galore
Straight after we thought we'd successfully updated our phone, the thing launched itself into a reboot loop.
We'd get as far as the 'swipe screen to unlock' page and then the phone would fire off straight back into a rebooting cycle.
Sometimes it got as far as the home screen before reporting that it was "not responding", heralding another unwanted reboot.
Taking the by-now red-hot battery out of the phone and powering up again finally broke us out of the reboot loop, but then things still went awry.
Camera hassles
Opening up the camera app would only result in the interface appearing for a few seconds before being returned to the home screen.
After multiple attempts the camera finally started working – but at the considerable expense of the ridiculous shutter speed coming back  on some shots (we've been using Tasker to shut this thing up).
Edit: we've worked this one out: if you touch the screen for focus first you won't hear the noise, but if you just hit the shutter button, the irritating  noise will follow.
Another annoyance is the fact that whereas the small 'previous photo' square at the bottom of the camera interface would update as each photo was taken, it now remains stuck on whatever photo was showing from the last session.
Wi-Fi woes
Here's another annoyance: the wi-fi will sporadically refuse to comeback on when the phone is woken up (it gets stuck 'half on' with the icon greyed out).
A working botch is to open Kies Air and choose wi-fi – this will ask you if you want to restart the wi-fi after a short wait – say yes. Otherwise you can reboot the phone (again).
It seems to be a widespread problem, with loads of users reporting the same issue here: http://code.google.com/p/android/issues/detail?id=28036.
Random reboots
Yep, we've got them too now. The phone will just be sitting their on its own and off it goes. And then there's been a few random freezes to.
More to come?
These are just the first few annoyances we've come across after just a few hours with the phone – by the sound it we're going to find lots more, so check back for updates – and please post up your own experiences.
We've been in touch with the official Samsung UK Twitter account but heard nothing back yet….