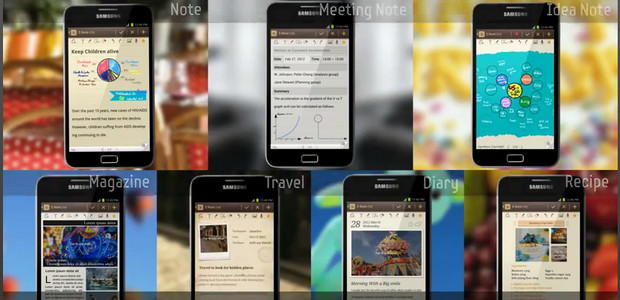 With sales already topping 5 million units, Samsung has manage to carve itself out a new product category with its Galaxy Note, a smartphone-cum-tablet with a ginormous 5″ screen.
With the form factor commonly dubbed as a " phablet," it's certainly something of a 'Marmite' device, although we have to profess ourselves rather smitten with the thing: after all, we're suckers for a digitiser stylus.
Although Samsung is yet to release the promised Android 4.0 Ice Cream Sandwich for the Note (don't get us started on the ruddy Galaxy S2 update),  it's decided to add to release a video showing off its soon-come  ICS premium suite of apps.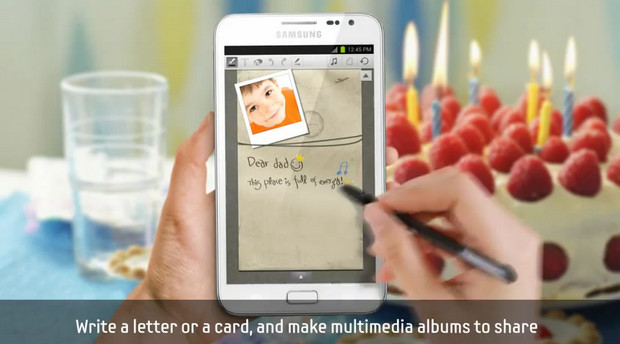 The 3:22 minute video shows a robo-hand swishing through a rather delightful suite of  shiny new apps, with Samsung's powerful Notes app continuing to impress.
Here's how the company describes the update – scroll on down for the video:
Software upgrade for GALAXY Note offers exclusive S Pen optimized applications, enhanced multimedia features and Android 4.0 Ice Cream Sandwich.

S Note, an unique tool that combines your notes and sketches with other digital content, giving you a new way to create your own stories. Also includes innovative shape- and formula-match functions, instant digitization of tables and grids, and knowledge search engines.

Along with a new look and feel, the Ice Cream Sandwich update provides a more intuitive user interface, faster performance, Face Unlock, Snapshot, Photo Editor and other features.

Plus, GALAXY users can also access an exclusive GALAXY Note level in Angry Birds Space (http://samsung.angrybirds.com/galaxynote), the newest Angry Birds game from Rovio Entertainment, along with a special package of 30 challenging levels in "Danger Zone".