It's been a big hit in Germany and now the top-selling iPhone navigation app Skobbler has launched in the UK at an introductory price of £1.19.
Serving up what looks like a decent satnav offering at a budget price, the app offers turn-by-turn GPS navigation (visual and voice guided), day and night display modes; automatic restart after incoming calls and a pedestrian mode.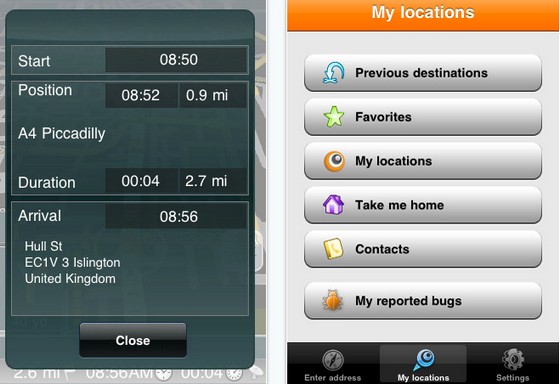 OperStreetMap
The app uses OpenStreetMap data powered by crowdsourced information to keep the maps updated, so participating motorists and pedestrians can upload problems and flag up map changes.
On paper, it looks like a decent alternative to forking out for a dedicated satnav app, although early reviews on the AppStore haven't been too glowing:
Very limited
It only has one map type. Gps lock takes for ever. It can't seach for point of interests. Absolutely useless when no internet is available as there is no caching of maps.

No postcode
We all know how important postcodes are in the Uk. This does not have it. Bought it just to see how powerful it will be considering the cheap price. But not yet. Maybe when an update comes, it will include postcodes. Improve the maps. But for now, will keep an eye and stick to my tomtom. But good job. I love your work.

never again
hate it. i were not able to navigate cause the maps are simply bad.
Even though it is only 1,5 – I want my money back!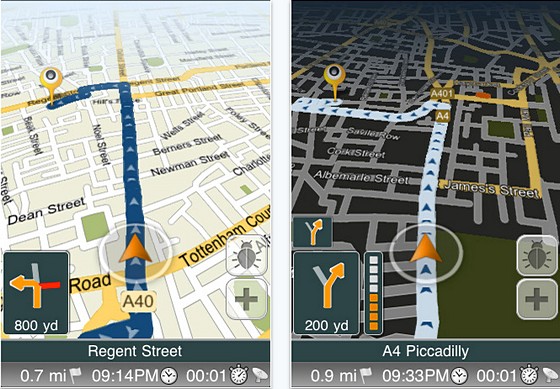 If you still fancy giving it a go, the app works with the iPhone 3G and 3GS, and is on the App Store at  a limited promotional price of £1.19 (down from £2.39).
Download it from here, or find out more on  Skobbler.com.