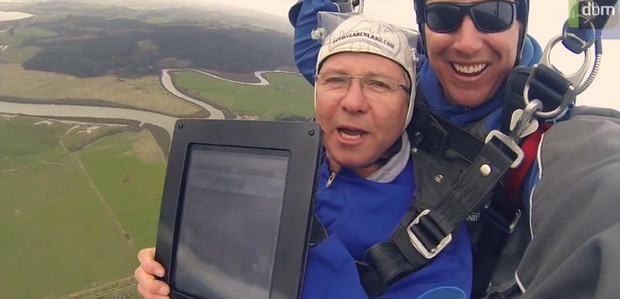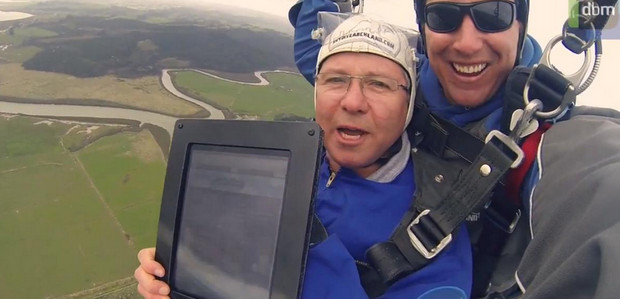 Getting your work noticed is an ever-tougher challenge in an increasingly crowded marketplace, so New Zealanders Chris Hirst and Leo Zhao decided to come up with rather a novel piece of marketing for their Designbymobile software.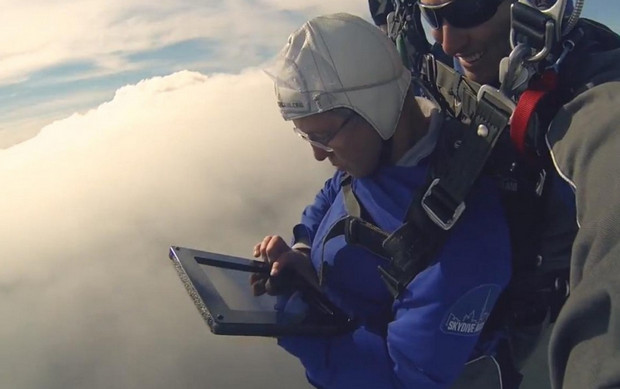 The app lets users build websites using mobile devices as well as desktops, and in a rather bizarre way of trying to bring it to the world's attention, Hirst leapt out of a plane and built a website with the software during an 8,000-feet skydive.
"To show people how easy it is to use, we thought we'd jump out of a plane and create and publish a webpage on the way down," said Designbymobile founder Hirst.
The promo video below shows him doing just that, swiping away like a pro as he floats towards the ground, although the website was compiled from two jumps, as Hirst explains on the Designbymobile website.
Actually we jumped twice just to prove how crazy we are. The first time we took loads of footage and then used that footage to create a webpage on the second jump.

The webpage includes a video, images, text, links and a slide show. We even had time to add in a thank you to the operator of the parachute, Sam – without him we would have just been a big ugly mess in the ground.
You can see the page here or thrill to the jumpy video below. And it terms of getting press- job done, guys!