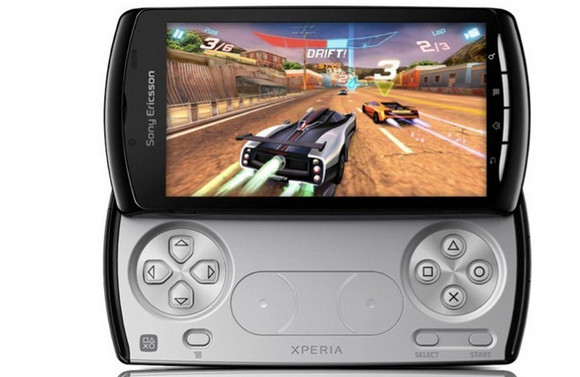 Now getting the official launch treatment is Sony Ericsson's Xperia Play handset – the first Android device to feature Sony's Playstation Suite gaming app and environment.
Gaming controls
Set to start rolling out 'this Spring,' the phone/gaming machine combo packs a slide-out panel with Sony's gaming D-pad on the left side, the four symbol-etched game control buttons on the right, with a set of circular touchpads in the middle, which can be used like analogue joysticks in certain games.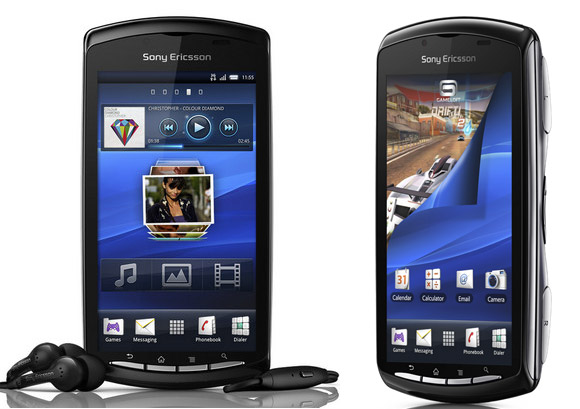 Running Android 2.3 Gingerbread, the Xperia Play motors along on a 1GHz Snapdragon CPU backed by an Adreno GPU graphics processor, and comes with a 4-inch Bravia (480 by 854 pixels FWVGA) touchscreen.
There's also a front facing camera, 5 megapixel rear camera, 512MB RAM, and a microSD card slot for expansion.
There's no news yet on a UK release date or pricing.
Official video:
Early hands on
Here's some hands-on videos from the dudes at Slashgear.
Press release:
Introducing Xperia PLAY – the world's first PlayStation certified smartphone

• XperiaTM PLAY combines a PlayStation-quality gaming experience with the very latest Android smartphone technology.
• Super fast graphics and dedicated game controls deliver the ultimate smartphone gaming experience from March 2011
• Sony Computer Entertainment and leading game publishers provide top titles from launch –available to download from the AndroidTM Market.

February 13, 2011, Barcelona, Spain – Sony Ericsson today announced the game changing XperiaTM PLAY, the latest phone in its XperiaTM range of Android based smartphones.

XperiaTM PLAY delivers the smartphone functionality that the most serious power users could need, teamed with the immersive gaming experience that any gamer would want.

In portrait mode, the Android smartphone offers all the benefits that users have come to expect from Sony Ericsson's existing range of XperiaTM smartphones with best-in-class entertainment experiences, a great 5 megapixel camera, a brilliant 4" multi-touch screen and great social networking features.

However, slide out the gaming control and users enter a new world of immersive mobile gaming. The slide out game pad reveals a digital D pad, two analogue touch pads, two shoulder buttons and the four PlayStation icons: circle, cross, square and triangle. Qualcomm's optimized Snapdragon processor with a 1Ghz CPU and embedded Adreno GPU graphics processor deliver silky smooth 60fps play-back 3D mobile gaming and Web browsing with minimal power consumption so Xperia PLAY users can enjoy long hours of battery life and game time.

Rikko Sakaguchi, Executive Vice President and Chief Creation Officer at Sony Ericsson commented: "Today is a very proud moment for Sony Ericsson as we bring something truly revolutionary to the market. Living up to our vision of Communication Entertainment, Xperia PLAY will forever change the way people think about smartphones and mobile gaming.

XperiaTM PLAY will run on Gingerbread (version 2.3), the latest version of Google's AndroidTM platform. The XperiaTM PLAY will also be the first PlayStation Certified device. This means it will have access to PlayStation® game content provided through the PlayStation® Suite initiative, currently under development by Sony Computer Entertainment and due to launch later this calendar year.

Kazuo Hirai, President of Networked Products and Services Group at Sony Corporation said: "I am delighted to see Xperia PLAY as the first PlayStation Certified smartphone to hit the market. Xperia PLAY provides a unique consumer offering and is yet another example of great products and services coming to market that leverage Sony's strong assets."

Sony Ericsson has partnered with key publishers in the gaming industry to deliver a rich, vibrant ecosystem at launch and post launch with many leading new titles available via the AndroidTM Marketplace. Leading franchises coming to Xperia™ PLAY includes EA's Need For Speed, Sims 3 and a world-first multiplayer version of FIFA 10 for mobile. GLU Mobile/Activision will be bringing Guitar Hero while Gameloft's titles include Assassin's Creed and Splinter Cell. Sony Ericsson is also partnering with Unity Technologies, using its award-winning development platform, to ensure a continuous flow of high quality 3D game titles.

Mr Sakaguchi continued: "The launch of Xperia PLAY could not have been possible without the close collaboration of both Google and Sony Computer Entertainment. The commitment of so many industry leading game publishers further demonstrates that Xperia PLAY will deliver on the long-held expectations from consumers the world over."

XperiaTM PLAY and PlayStation Certified gaming are great examples of the kind of innovation that's possible in the open Android ecosystem," said Andy Rubin, Vice President of Engineering at Google.

A pre-loaded application will enable users to easily discover and download titles that have been optimised for game play on Xperia PLAY, access recently played games and see information about the games they have downloaded.

Sony Ericsson Xperia™ PLAY will be available globally in selected markets from March 2011

What do our content partners say?

Electronic Arts, Travis Boatman, VP of Worldwide Studios for EA Mobile:
"EA collaborated closely with Sony Ericsson to bring exciting versions our best-selling consumer favourites such as The Sims™ 3 and EA SPORTS™ FIFA 10 to the Xperia PLAY. The device's dedicated gaming keypad gives FIFA players what matters most in a footy game — ultimate ball control, quick player selection on the pitch, effortless passes and more. The Xperia PLAYS's unique gamepad also delivers robust control in The Sims 3 bringing a whole new life simulation experience to fans of the franchise. We look forward to watching consumers interact with our great games in new ways through the Xperia PLAY."

Gameloft, Michel Guillemot, President:
"We are pleased to partner with Sony Ericsson to offer a catalogue of 10 of our best-selling games at launch of the Sony Ericsson Xperia PLAY," said Michel Guillemot, President of Gameloft. "My vision since the creation of Gameloft was to turn video games into a true mass market form of entertainment. This vision is realized with the launch of Xperia PLAY, which combines a perfect smartphone for daily use as well as a real game controller to provide the best gaming experience ever seen on a mobile phone. Gameloft will support the launch with more than 20 titles over the next 6 months that will take full advantage of the power of this device."

Glu Mobile, Niccolo de Masi, CEO:
"Glu's strategic relationship with Sony Ericsson aligns us with a leading innovator in mobile and gaming. We look forward to accelerating our momentum in social mobile gaming with compelling offerings on Sony Ericsson's newest mobile devices."

Content partners at launch include:
Sony Computer Entertainment
Digital Chocolate
Digital Legends
Electronic Arts
Fishlabs
Gamehouse
Gameloft
Glu Mobile
Handy Games
Namco Bandai Networks
Polarbit
PopCap
Trendy Entertainment
Unity Tecnologies

Xperia™ PLAY at a glance:
Sony Ericsson Xperia™ PLAY
Camera
5.1 megapixel camera
Auto focus
Flash / Photo light
Geo tagging
Image stabiliser
Send to web
Touch focus
Video light
Video recording
Video blogging
Music

Album art
Bluetooth™ stereo (A2DP)
Google™ Music Player
Music tones (MP3/AAC)
PlayNow™ service*
Sony Ericsson Music player
Stereo speakers
TrackID™ music recognition application
Internet

Android Market™*
Bookmarks
Google™ search*
Google™ Voice Search*
Pan & zoom
Web browser (Webkit)
Communication

Call list
Conference calls
Facebook™ application (from Android Market™)
Google™ Talk*
Noise Shield
Polyphonic ringtones
Speakerphone
Sony Ericsson Timescape™***
Twitter™ application (from Android Market™)
Vibrating alert
Messaging

Android Cloud to Device messaging (C2DM)
Conversations
Email
Google Mail™*
Instant messaging
Picture messaging (MMS)
Predictive text input
Sound recorder
Text messaging (SMS)
Design

Auto rotate
Keyboard (onscreen, 12 key)
Keyboard (onscreen, QWERTY)
Picture wallpaper
Touchscreen
Wallpaper animation
Entertainment

3D games
Dedicated gaming keys
Flash Lite™
Gesture gaming
Motion gaming
Video streaming
YouTube™
Organiser

Alarm clock
Calculator
Calendar
Document editors
Document readers
E-Manual
Flight mode
Google Calendar™
Google Gallery 3D™
Infinite button
Phone book
Set-up Wizard
Widget manager
Connectivity

3.5 mm audio jack
aGPS
Bluetooth™ technology
DLNA Certified
Google Latitude™
Google Location Service
Google Maps™ with Street View
Media Transfer Protocol support
Micro USB Connector
Modem
Synchronisation via Facebook™**
Synchronisation via Google Sync™
Synchronisation via Microsoft Exchange ActiveSync®
Synchronisation via Sony Ericsson Sync
USB 2.0 high speed support
Wi-Fi™
Wi-Fi™ Hotspot functionality

* The service is not available in all markets.
** Requires Facebook™ application installed on the device.
Google™ services*

* These services may not be available in every market
Android Market™ Client
Gmail™
Google Calendar™
Google Gallery 3D™
Google Latitude™
Google Maps™ with Street View
Google Media Uploader
Google Music Player™
Google Phone-top Search
Google Search widget
Google Sync™
Google Talk™
Google Voice Search
Set-up Wizard
YouTube™
Screen

• 16,777,216 colour TFT
• Capacitive multi-touch
• 4 inches
• 480 x 854 pixels (FWVGA)
Accessories
In-Box:
• Xperia™ PLAY
• Battery
• Stereo portable handsfree
• 8GB microSD™ memory card
• Charger
• Micro USB cable for charging, synchronisation and file transfer
• User documentation

Facts
Size: 119 x 62 x 16 mm
Weight: 175 grams

Phone memory: 400 MB

Memory card support: microSD™, up to 32 GB
Memory card included: 8GB microSD™
Operating system: Google™ Android 2.3 (Gingerbread)
Processor: 1 GHz Scorpion ARMv7
Talk time and networks
Networks

Talk time GSM/GPRS: Up to 8 hrs 25 min*
Standby time GSM/GPRS: Up to 425 hrs*
Talk time UMTS: Up to 6 hrs 25 min*
Standby time UMTS: Up to 413 hrs*
Talk time CDMA2000®: Up to 7 hrs 40 min*
Standby time CDMA2000®: Up to 405 hrs*
Game play time: Up to 5 hrs 35 min*
MP3 playback: Up to 30 hrs 35 min*

Networks
UMTS HSPA 800, 850, 1900, 2100
GSM GPRS/EDGE 850, 900, 1800, 1900
UMTS HSPA 900, 2100
GSM GPRS/EDGE 850, 900, 1800, 1900
CDMA2000®, cdmaOne, EVDO

Colour
Black
White