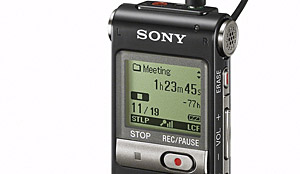 Sony's rather smart looking line of USB UX dictation takers/mp3 players have enjoyed a slight update with an increase in storage capacity and some rather soothing colours.
The ICD-UX200 (2GB) slips out of dock in black, silver, pink and red finishes, while the ICD-UX300 (4GB) is available in black or red finishes.
The top of the range ICD-UX300F (4GB) packs a FM tuner, comes in black only and serves up that almighty 1,072 hours of recording in LP mode.
However, you'll need a pile of batteries to hand, with recording time set to 15 hours (in LP mode with alakaline batteries), while you should get up to 83 hours of playback – long enough to play back the longest lectures imaginable.

Although primarily aimed at the dictation mob, there's also a built-in MP3 music player offering playback through the built-in speaker or supplied in-ear headphones.
A large 5-line LCD display should make managing audio files easier, and there's five message folders for organising recordings with editing features including Divide/Erase/Select and Move to folder functions.
The ICD-UX200, UX300 and UX300F digital voice recorders are available from December 2009 – no news on pricing yet.

Key features
· Crisp, clear stereo speech recording
· Super-long record time up to 1072 hours (UX300 in LP mode)
· Easy operation with large, informative 5-line display
· Quick, easy drag-and-drop PC file transfers with USB connector protected by slider
· MP3 music player with supplied headphones
· Long battery life up to 15 hours record / 83 hours playback time
· Compatible with both Windows and Macintosh