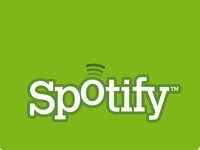 Spotify has tooted on its PR horn and trumpeted the news that its mobile phone app is now available on the Symbian platform, letting zillions of users on Nokia, Sony Ericsson and Samsung handsets gorge themselves on their music streaming service.
Like the iPhone and Android versions, the Symbian version serves up unlimited music streaming, so long as users are shelling out a tenner a month for the premium account and they're on a fixed data plan offering WiFi or 2.5/3G Internet access.
Symbian owners will now be able to run Spotify in the background while texting, making calls, web browsing etc, and there's also an offline mode for listening sans le Internet connection.
Currently 21 Nokia handsets are compatible with the Spotify app (including handsets coming with Nokia's rival Comes With Music service music-streaming app), and other compatible apps include the Sony Ericsson Satio and the Samsung GT-I7110 and i8910 Omnia HD.
Spotify have piled on the festive angle with their website announcement:
Today we're delighted to announce the launch of Spotify for Symbian. "Symbian is the operating system used by a number of smartphones including Nokia, Sony Ericsson and Samsung… We hope everyone enjoys this early Christmas present!
To access Spotify on your mobile, click on http://m.spotify.com/ via your phone.