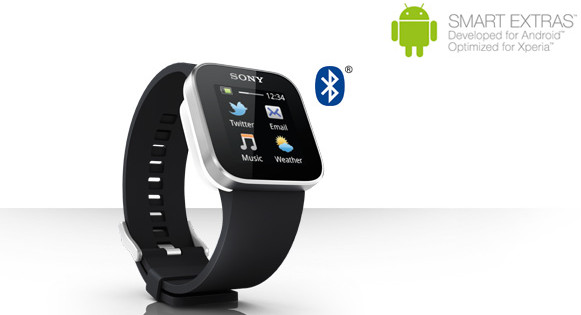 Connecting to Android handsets via Bluetooth, the Sony SmartWatch lets users answer calls, play music and  catch up on texts, email and social networks like Facebook and Twitter on the move.
Designed so that it can be worn as a wristwatch or clipped to a lapel or bag strap, Sony say that with typical usage, the battery should last around four days.
Controlled via via various gestures and swipes, the Android powered device features neat functions like LiveKey which lets users make voice memos easily, and Open TrackID for quickly identifying tunes playing at a party or whatever.
A slight bummer is that you have to tap the side of the device to see the time, bringing back memories of the first LED watches in the 1970s.
The successor to LiveView, the SmartWatch sports a capacitive touch screen, comes with several colour strap options and should retail for around $149.
Specs:
Platform Android
Dimensions 36 mm x 36 mm, thickness: 8 mm
Weight 15.5 g main unit, 26 g for watchband
Available colours Main unit: White clip + black display, metallic frame
Messaging Can read sms and email and calendar reminders on display
Social networking services Facebook, Twitter
Calls Reject and mute calls, pre-defined sms, take call and use headset
Power consumption Low usage, 1 week. Typical usage, 3-4 days, Heavy usage,1 full day.
Charging connector USB cable
Graphical display Multi-touch color OLED display
Keys 1
Wearing Watchband and clip
Music player control Via display
[Sony]