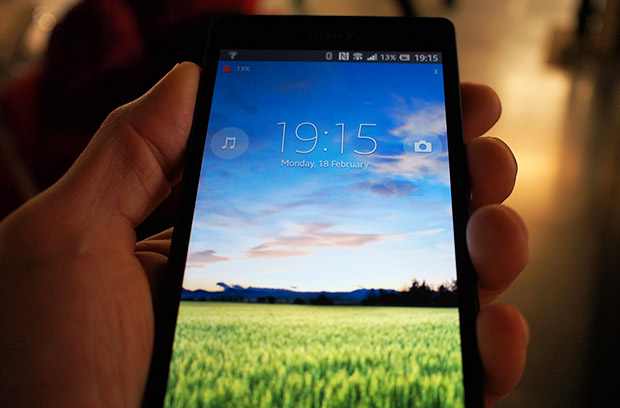 Looking to take on the Samsung Galaxy S3/S4, Apple's iPhone 5 and the recently announced HTC One, Sony's new flagship Xperia Z smartphone is hoping to elbow itself some market share in a crowded market of premium handsets.
We were invited by Sony UK to spend a couple of hours with their latest and greatest smartphone to see how it shaped up – and dunk it into a bowl of water.
High end finish
Our initial impressions were positive:  the first you notice when holding the phone is that you've certainly got a rather classy looking premier gadget in your mitts.
The design is simple and discrete, with only the Sony logo interrupting the all-black fascia. The corners are gently curved, it's wafer thin at 7.9mm, and there's tough glass covering the front and back.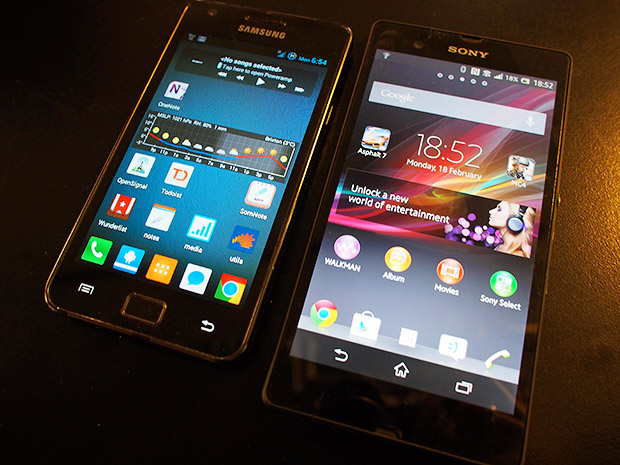 [Samsung S2 vs Xperia Z size comparison]
Big screen goodness
Although the 5-inch screen guarantees that this is going to be a sizeable offering, it still feels elegant in the hand and remains reasonably pocketable (but perhaps not if you're a tight trousered hipster).
The 5-inch 1920 x 1080 display is of course the stand out feature here: with around 2 million pixels it can match the pixel count of a  55in Full HD flatscreen TV, and it comes with a pin-sharp 443 pixels per inch density.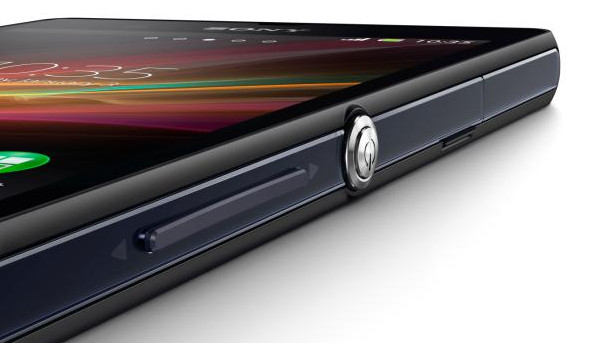 Powered by Sony's Mobile Bravia Engine 2, the display was, as you might expect, a delight to watch, offering astounding levels of detail, with pictures rendered as crisp as a deep frozen slice of Ryvita.
That said, it did seem a little washed out compared to, say, Samsung's vibrancy-boosted displays.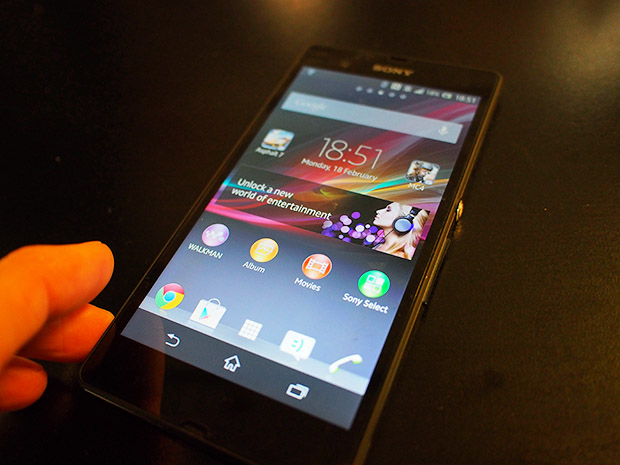 Performance
Performance was as snappy as you would hope from a handset stuffed with a 1.5GHz Qualcomm Snapdragon S4 Pro quad-core processor and 2GB of RAM.
Apps opened swiftly with no lag at all, and at no point did we detect any stutters. It was wonderfully slick.
Storage and connectivity
There's only a 16GB model currently available but Sony does redeem itself with a microSD card slot allowing up to 32GB extra storage. Sadly, there's no removable battery.
Connectivity options abound, with Wi-Fi, Bluetooth 4.0, NFC (near-field communications), aGPS and DLNA (digital living network alliance) all present and correct, plus there's two metal contacts on the left hand side of the handset for use with a docking station.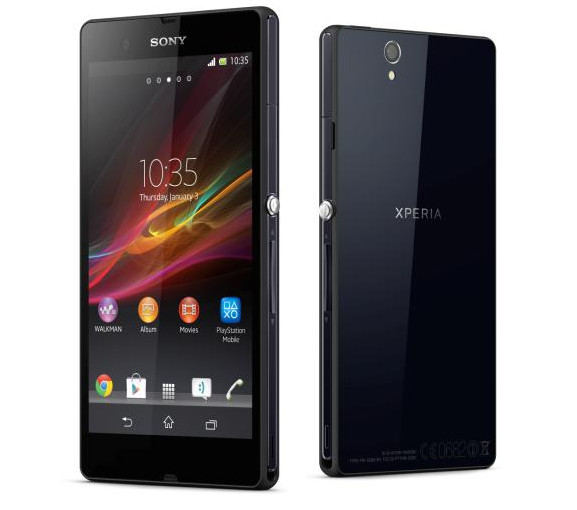 Camera
Sony have an excellent reputation for their cameras, and the 13MP beastie onboard didn't disappoint, rattling off snaps at up to 10 frames per second in burst mode.
The results looked well exposed and low light performance seemed up there with the best. Shame there's no dedicated shutter release button, though.
There's the usual filter effects and HRD options (including video), and the sweep panorama mode was particularly swish, although the results could only be viewed in portrait mode, which seemed a little odd.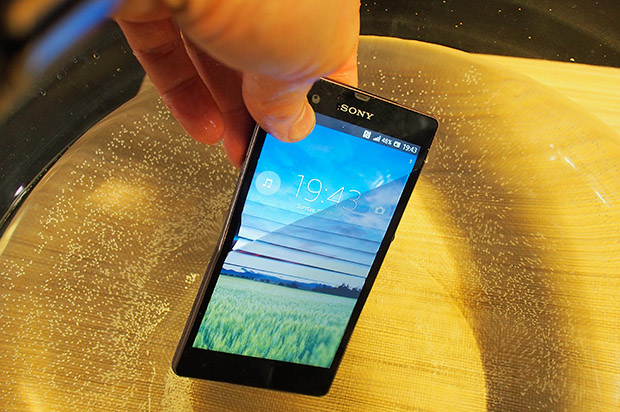 Waterproof?
Greeting reviewers at Sony's press launch was a big bowl of water, where we were invited to drop in the phones and test the phone's much-vaunted water-repelling abilities.
Despite a natural reluctance to plunge an expensive smartphone into a bowl of water, the various seals on the phone did indeed keep the phone working, even if it was a little strange watching a video playing in the bottom of a goldfish bowl.
Of course, the nature of capacitive touchscreens means that you can forget about texting underwater – the real reason why Sony has introduced waterproofing is in response to the millions of phones that end up at the bottom of toilet pans every year.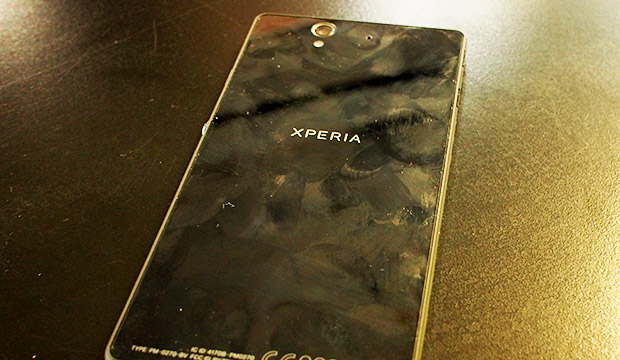 [The glass back welcomed smudges like a long-lost friend]
Battery
We didn't get have the phone long enough to test it, but Sony'
s
Stamina Battery mode promises to extend battery life by turning off
 WiFi, Bluetooth and mobile data when enabled, while still letting calls and texts through.
The feature also intelligently lets
 any software to complete downloading, and alarms will still work.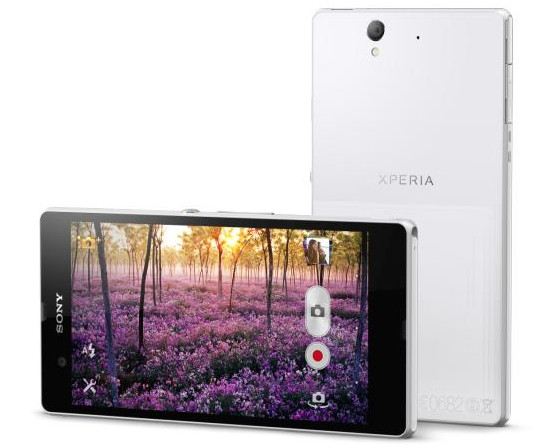 Wrap up
Coming with some interesting innovations in a well-designed package , the Xperia Z exudes quality and style, although that big screen means that it's not really a handset for small handed folks.
Coming in three colours – white, black and a purple option that's exclusive to O2 – the 4g-capable Xperia offers consumers a slick, enjoyable to use package that forms a formidable rival to the current big sellers.
The phone will be released in the UK from 28 February, and will be available from free on contract with Vodafone.