Billed as a "a tiny camera with huge possibilities," Swann's diminutive ThumbCam video camera is a mere whisp of a thing, measuring just 2.2" x 0.8" x 0.8" and ideal for all your nefarious recording needs.
The newest gadget in Swann's dodgy-sounding 'covert surveillance' range, the pinhole video camera is capable of recording 720 x 480 AVI AVI files, with the makers inviting users to "make their own hidden videos for the web, leisure or business."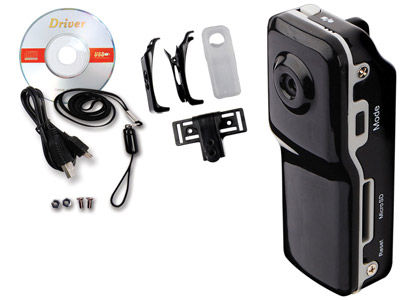 Scream to start
Recordings can be manually started or sound activated, with the bundled 2GB micro SD card allowing up to 40 minutes of recording at 30 frames per second.
Time-stamped
Video and images are time and date stamped, and the secretly snaffled AVI files can be transferred to PCs via the micro SD card, or by plugging  the ThumbCam  in via the included USB 2.0 cable.
The pint sized camera comes with a  built-in lithium ion battery, which takes 60 mins to fully charge up via a USB cable .
The ThumbCam is now available for £50 from our very favourite retailers, PC World, who aren't the sort of crappy company who would sell second hand goods as new. No sir!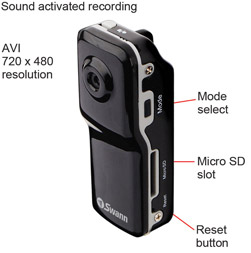 Specs
Video
Video Format – AVI
Resolution
720 x 480
Video Bit Rate
7000 kbps
Photo Format
N/A
Audio
Built in Microphone
Audio Range
3m
Recording
Recording Mode
Manual / Voice activated
Frame Rate
30 fps
Storage Type
MicroSD Card
Storage Capacity
Up to 8GB
Storage Time
Approximately 20min/GB
General
Record Time per Charge
60 mins
Battery Type
Rechargeable Lithium-ion
Charging Method
USB via computer
Dimensions
2.2" x 0.8" x 0.8" / 55mm x 20mm x 20mm
Weight
0.8oz / 20g