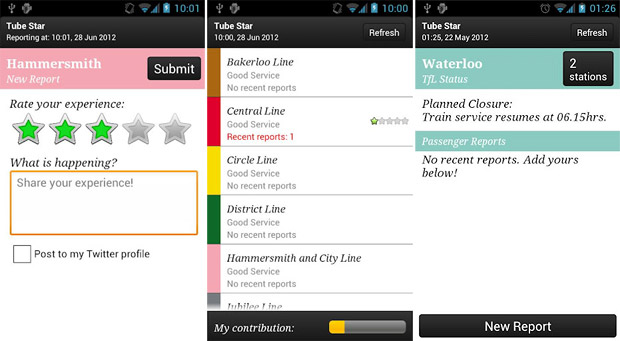 With the Olympics nearly upon us, there's sure to be outbreaks of tube chaos ahead, as confused tourist hordes disappear down into London's labyrinthine tube network.
To help travellers keep on top of possible delays and disruptions, the Tube Star app serves up both the official Transport for London status for each tube line (and any incidents reported at stations) as well as the recent experiences of fellow passengers.
They way it works is that users are encouraged to post a short tweet about their journey and list any delays, disruptions or heaving crowds they encounter – something they'll be able to do from many tube stations thanks to the current free wi-fi scheme.
To get involved, users have to download the app, log into it with their Twitter account and start sharing their travel  experiences.
Obviously for this to be of any practical use, it relies on people participating and Tweeting their updates but it might prove a useful tool in your armoury when setting forth onto the tube network in the coming weeks.