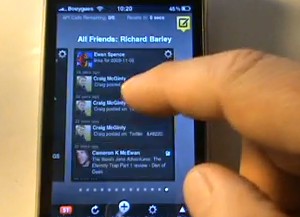 You can't move for Twitter clients on the iPhone these days, but TweetDeck are hoping that the desktop integration offered by their app will give them some leverage over the other contenders.
Shaping up to be a real challenger to the popular Tweetie iPhone app,  TweetDeck has rolled out its first major update (v. 1.1.1), squeezing in Facebook integration.
Just like the desktop app, TweetDeck iPhone users will be able to create Facebook columns, read status updates, write on walls, add comments, shorten URLs with Bit.ly, view trending topics, save drafts and also update their Facebook status, adding up to a fairly seamless, combined Twitter and Facebook experience (TwitBook, if you like).
The app also offers integration with 12seconds.tv, letting iPhone 3Gs users record and send out 12 second videos through their Twitter and Facebook accounts.
There's also landscape support to make the iPhone virtual keyboard a bit more bearable, and you can bask in the glory of the latest update via the company's video: