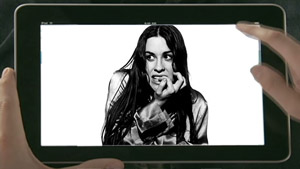 Taiwanese tech company Elan Microelectronics have filed a suit against Apple that has the potential to stop the iPad dead in its tracks.
The suit filed with the U.S. International Trade Commission alleges that certain Apple products have violated their multi-touch patent.
Last April, Elan filed a related suit with the U.S. District Court in Northern California over the same patent (No. 7,274,353, if you're interested), which it describes as "a fundamental patent to the detection of multi-fingers that allows for any subsequent multi-finger applications to be implemented."
ITC shenanigans
Here's the clever bit: by going to the ITC as well as chasing the patent infringement suit, Elan is looking to block  Apple from importing its multi-touch enabled products into the U.S.
And in case you didn't know, that includes the iPad – which goes on sale on April 3rd – as well as the iPhone, iPod touch, MacBook and Magic Mouse.
Although Apple products are as American as apple pie, they're assembled outside of the U.S. which puts them under the jurisdiction of the ITC – and they have the power to stop disputed products being imported in America.
Isn't it ironic
Thanks to a loophole in U.S. patent law, any ITC findings will be binding regardless of what happens with the patent lawsuit  – and that's exactly the same sneaky strategy that Apple is employing in its attempts to block HTC from importing phones which they say breach their own patents.
Although Apple fans will probably be shrugging their shoulders and assuming this one will quickly fade away like the hundreds of others in the past, it's worth noting that Elan have what we call in Cockney London, 'form'.
In 2008, Elan took out a case against Synaptics touchpads over the exact same patent violation – and won.
[Via]