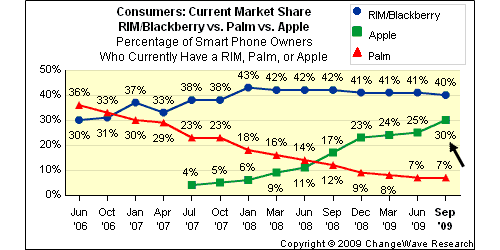 A new survey of market shares for smartphones conducted last month showed that Blackberry (RIM) continues to be the numero uno choice among consumers in the US , with Apple's iPhone snapping wildly at its heels like a terrier on meth.
Based on a week-long September survey of 4,255 consumers, the figures from ChangeWave Research show RIM (Research In Motion) retaining its lead in smartphone ownership with a 40 percent market share.
However, this is down one per cent from the last survey in June, and adds up to the lowest market share registered for the company in two years.
Sales of Apple's iconic iPhone continue to soar northwards, with the company now bagging a 30 percent market share among those surveyed – up a healthy five per cent since June.
Palm steadies a wobbly ship
It may still be a long way from its glorious past, but Palm managed to put a halt to a near catastrophic decline in sales, with the latest figures showing its market share not dropping for the first time in two years.
The study showed the company retaining a seven per cent share, which we expect to see rise with the wider adoption of the well received Palm Pre and the forthcoming Palm Pixi handsets.
We've no idea why other operating systems were missed off the survey, but Windows Mobile would be most likely to occupy the third overall place in US smartphone market share, followed by Android, Palm's webOS, and then Symbian.
Changewave also noted that revenues from smartphones are likely to hit $191 million by 2012 – a fair whack more than the $152 million users are expected to spend on laptops, according to Gartner's figures.