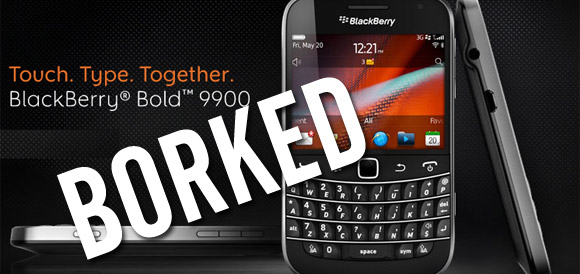 RIM are struggling enough as it is, but things have been going from bad to worse for the Canadian company as millions of BlackBerry users now go into their third day of being unable to access the internet on their handsets.
Although the service was  briefly restored on Tuesday morning, it promptly collapsed again before the morning was out, leaving frustrated subscribers without mobile internet, email and access to RIM's instant messenger, BBM.
With no official update as to when services may be restored, it's turning into a PR disaster for RIM – even more so as the outage coincides with a big advertising campaign for their new Blackberry Bold 9900 handset.
The company have so far only offered a  rather muted explanation of the ongoing problems:
The messaging and browsing delays being experienced by BlackBerry users in Europe, the Middle East, Africa, India, Brazil, Chile and Argentina were caused by a core switch failure within RIM's infrastructure.

Although the system is designed to failover to a back-up switch, the failover did not function as previously tested. As a result, a large backlog of data was generated and we are now working to clear that backlog and restore normal service as quickly as possible.

We apologize for any inconvenience and we will continue to keep you informed.
It's a disaster
As you might imagine, users are going ballistic online, and with every day that this farrago continues, we can imagine Blackberry's market share getting that little bit smaller.
Are you one of the unconnected?
Are you affected by the blackout? Tell us your experiences below.