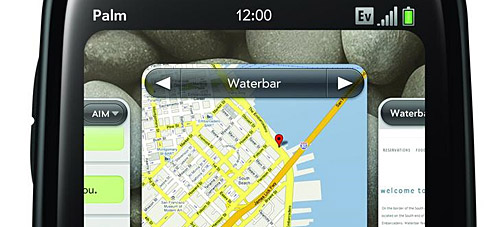 UK network O2 launched the Palm Pre yesterday, and declared sales figures to be a "roaring success."
The company said that it shifted more Palm Pre handsets on Friday than the total number of handsets that it sells on an average day, which is encouraging news for Palm who are keen to make a big impression with their new handset.

Despite the curiously low key approach leading up to the launch date, there seemed to be no shortage of interest in the slider phone which runs Palm's innovative webOS.
Punters warmed to the Touchstone charger too, with around half buying the wireless charging for the device – and some buying two.
The device rather smartly lets you charge the handset just by placing it on an electromagnetic induction pad rather than faffing about and plugging in a cable.
A poster on our sister site, urban75, picked up a Pre Friday morning the Westfield o2 shop and noted that there were three people behind him queuing up to grab a Pre.
Nothing to match the high-fiving hysteria that accompanies iPhone launch dates, of course, but it looks a solid enough start.
We also managed to pick up a handset yesterday – served by staff wearing natty Palm Pre T-Shirts – and our initial impressions are very positive indeed. Expect a full review shortly.
The Pre handset is only available from  O2, with rates starting £30/month (plus £90 for the phone) up to free on 24 month contracts.