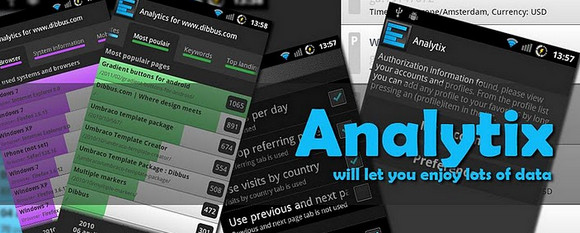 If you want to keep track of your Google Analytics facts'n'figures on the move, you'll be hard pushed to find anything more comprehensive as the Analytix app for Android phones and tablets.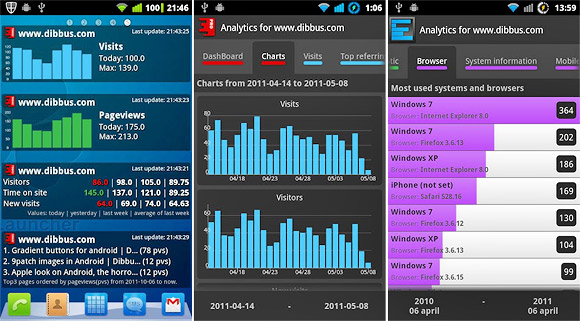 The app visualises Google Analytics data by year, month, week, day, and even offers near real-time monitoring with an hourly view.
There's a massive range of metrics on offer, including visits per date, top referring pages, visits by country, pageviews, top keywords, top landing pages, top browsers and mobile traffic (see full listing below).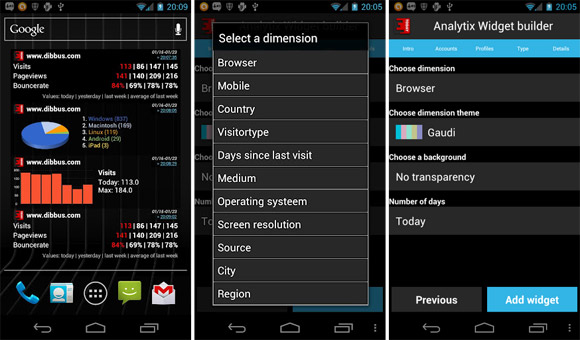 Using the app
Running the app is simple enough too: just load it up and then pick which Google account you want to view the data from.
The interface is great to look at too, with a slew of clear and colourful charts and figures to flick through, with the timespan easily changed via a pop up screen.
There's also a highly configurable widget available for the app, so you can monitor a site's traffic from your Android home screen.
Priced at £1.30, Analytix for Google Analytics is one of the best tools of its kind we've seen, and we recommend it.  It's also available as a HD tablet version and a trial download.
Analytix for Google Analytics – data displayed

1. Visits per date(year/month/week/day/hour via slider)
2. Top referring pages
3. Visits by country
4. Previous and next page
5. Search engines
6. Pageviews
7. Top keywords
8. Top landing pages
9. Top problematic pages
10. Top browsers
11. System information
12. Network information
13. Mobile traffic
14. Visitor based conversion rate
15. Revenues by date(year/month/week/day/hour via slider)
16. Total revenues by type
17. Social revenues
18. Social pageviews
19. Application pageviews(for android developers)
20. Application events(for android developers)
21. Adwords clicks and impressions
22. Adwords matched query
23. Total events
24. Event categories
25. Event actions
26. Event labels
27. Google Pagespeed
28. Pageload time